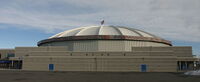 The Yakima SunDome is a 6,195 seat multi-purpose arena in Yakima, Washington. It was built in 1990, on the Central Washington State Fairgrounds and often serves as an exhibit hall during the fair. Bea Noel of Yakima developed the first vision of building a multi purpose facility on the Yakima Fair Grounds. Gilbert H. Moen Co. was the General Contractor.
External links
Ad blocker interference detected!
Wikia is a free-to-use site that makes money from advertising. We have a modified experience for viewers using ad blockers

Wikia is not accessible if you've made further modifications. Remove the custom ad blocker rule(s) and the page will load as expected.