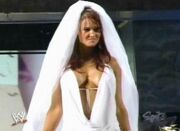 An occasional popular storyline in wrestling is for a wedding to take place. While these weddings are generally Kayfabe, there have been exceptions to this rumor. Often the romantic elements to the wedding ceremony are ignored, in favor of tragedy, humor, or advancing a feud. Wrestling weddings are notorious for quickly turning into disasters.
History of Wrestling Weddings
| No. | Wedding | Event, date, and location | Notes |
| --- | --- | --- | --- |
| I | Paul Vachon & Ophelia | Tuesday Night Titans, December 18, 1984 | Paul Vachon married Ophelia in the ring with only the heel personalities of the era in attendance. Captain Lou Albano objected to the wedding at first, but once he found out that Ophelia wasn't a virgin he had no problems with letting the wedding continue. "Dr. D" David Schultz entered the ring after the vows were exchanged and body slammed the groom. At the reception, Dr. D started a food fight. |
| II | Uncle Elmer & Joyce | Saturday Night's Main Event II, October 3, 1985, East Rutherford, New Jersey | This wedding took place on the second edition of Saturday's Night Main Event. When the audience was asked if anyone objected to this marriage, Roddy Piper came out and said the wrestling ring was no place to get married and insulted Uncle Elmer and the rest of his Hillbilly family. On commentary, Jesse Ventura made fun of the couple and went so far as to say that their kiss looked like two carp going after the same piece of corn. The night ended with Ventura's face being forced into the wedding cake. The most amazing part of this story is that Hillbilly Jim said that the wedding was real and that Uncle Elmer and Joyce left the building as man and wife. |
| III | Randy Savage & Elizabeth Heulette | SummerSlam 1991, August 26, 1991, New York, New York | Nothing happened during the ceremony. The next week on TV, the lowlights of the reception were shown. Jake Roberts' gift box contained a cobra. The Undertaker hit Savage on the head with a urn. A huge feud developed between Roberts and Savage and was highlighted by a cobra gnawing on the arm of the "Macho Man". |
| IV | Stephanie McMahon & The Undertaker | WWE Raw, April 26, 1999 | This "Unholy Ceremony" took place during the height of the Vince McMahon vs. Steve Austin feud. Undertaker kidnapped Stephanie and was forcing her into this dark marriage to please the Higher Power. The ceremony was presided over by Paul Bearer while Stephanie was in a black dress and attached to the Undertaker's sacrificial symbol. The Undertaker's Corporate Ministry prevented Stephanie from being saved, but Steve Austin was able to interrupt the ceremony. He was thanked by his new friend Vince McMahon, who a few weeks later was revealed to be the Higher Power. |
| V | Stephanie McMahon & Test | WWE Raw, November 29, 1999 | This was supposed to be a classy ceremony. As a precaution, Vince McMahon said that if Triple H or any members of D-Generation X ruined the ceremony they would be fired. When the crowd was asked if anyone objected, Triple H appeared and showed the following film. |
| VI | Stephanie McMahon & Triple H | WWE Raw, November 29, 1999 | During her bachelorette party, Stephanie was drugged. Triple H took her to a drive through wedding chapel and got married even though she was unconscious. At the next PPV, Vince fought Triple H with the stipulation that if he won the marriage would be annulled. During the match, Stephanie turned on her father and started the McMahon-Helmsley era with her husband. |
| VII | Stacy Keibler & David Flair | WCW Monday Nitro, September 11, 2000 | Stacy Keibler stopped her own wedding ceremony to inform Flair that he wasn't the father of her "baby." David Flair went on a rampage trying to find the identity of the real father, convinced that it was Buff Bagwell. The storyline was eventually abandoned and the actual father was never found out. |
| VIII | Stephanie McMahon & Triple H | WWE Raw, February 11, 2002 | A few years later, Stephanie & Hunter were on the verge of a divorce. She concocted a scheme to renew their vows when she hired an actor to portray a doctor to tell Triple H that she was pregnant. Prior to the ceremony, Triple H found out the truth but didn't reveal it until the end of the ceremony. He gave his father in law the pedigree and let Stephanie know that it was over between them. |
| IX | Billy & Chuck | WWE Friday Night SmackDown!, September 12, 2002 | This commitment ceremony got mainstream publicity because it involved 2 men. The marriage ceremony was performed by a rickety old man. Before the ceremony ended, both wrestlers backed out and said it was only a publicity stunt and then blamed their manager Rico. The minister then took his mask off to reveal RAW GM Eric Bischoff. He then had his team of 3 Minute Warning attack Billy & Chuck. |
| X | Al Wilson & Dawn Marie | WWE Friday Night SmackDown!, January 2, 2003 | Al Wilson is the real life father of Diva and Playboy cover girl Torrie Wilson. Dawn Marie was another WWE Diva that put the moves on Torrie's dad to further their feud. After a few months, they were married on TV. Dawn made her fiancé get married in his underwear. During the honeymoon, Dawn oversexed the elderly Al Wilson and he had a fatal heart attack. |
| XI | Mike Kruel & Becky Bayless | USA Pro Wrestling Blood, Sweat, & Tears 2, April 4, 2003, Queens, New York | The wedding didn't happen. Daniels was the priest. Simon Diamond & Matt Striker came out in drag as the CSC's dates. Bayless dumped Kruel just before completion saying he was boring and an idiot. She then claimed Striker got her pregnant. A big brawl ensued. |
| XII | Kane & Lita | WWE Raw, August 23, 2004 | To prevent her boyfriend Matt Hardy from being beaten up by Kane, Lita had sex with Kane. During this encounter, Lita became pregnant. A few months later, Matt lost a match to Kane at SummerSlam which stipulated that Lita would have to marry Kane. When Matt tried to stop the ceremony, Kane beat him up. A few months later, Kane & Lita lost their child when Gene Snitsky injured Lita during a match with Kane. |
| XIII | Buff E. & Mace Mendoza | USA Pro Wrestling, November 19, 2004 | The scheduled Same Sex Wedding between Buff E. and Mace Mendoza did not happen. Matt Striker (Buff E's Best Man) admitted he wants Buff E and Buff E then admits the two of them had an affair. Mace then admitted that he and Dana Dameson (his Maid of Honor) had an affair and she is pregnant by him. Simon Diamond, The Solution, John Shane, and Mike Tobin all came out. Buff E and Mace still make up and end it with a kiss. |
| XIV | Edge & Lita | WWE Raw, June 20, 2005 | On TV, Kane and Lita were married and were getting along better since they both shared the grief of losing their child. In real life, Lita's boyfriend was Matt Hardy and she cheated on him with their friend Edge. Matt Hardy went public with this story on his website and he was promptly fired by the WWE. The fans turned on Lita and the WWE had to do something since the fans were booing the babyface Lita. During a match between Edge and Kane, Lita turned on Kane. A few weeks later, she threw her wedding ring down the toilet. Edge and Lita's marriage ceremony was broken up by Kane who was hiding under the ring. |
| XV | "Cowboy" Jack Durango & Adrenelyn | Impact Zone Wrestling, February 14, 2006, Tempe, Arizona | "Cowboy" Jack Durango & Adrenelyn were married in an IZW "White Trash Wedding". Peter Goodman them came out and disrupted the celebration, then gave Durango multiplea DDT's and Adrenelyn a DDT into the wedding cake. |
| XVI | Teddy Long & Kristal Marshall | WWE Friday Night SmackDown!, September 21, 2007 | For the first time, the rosters of ECW and SmackDown were in attendance for a ceremony. It was first disrupted by Jillian singing. Then The Godfather came out and most of the men on the rosters left to join his Ho Train. Then Vince McMahon's leprechaun son, Hornswoggle, crawled under Kristal's gown and was followed by Jonathan Coachman. When order was finally restored, Teddy Long had a heart attack just as he was about to say "I Do". The cause appears to be that he took some Viagra before the wedding. Butch Reed served as one of the Groomsmen. Ron Simmons was the best man. |
| XVII | Kurt Angle & Karen Angle | TNA Impact!, February 14, 2008 | In honor of Valentine's Day, Kurt Angle gave Karen a ceremony to renew their wedding vows. Samoa Joe & Kevin Nash came down and wreaked havoc, ambushing Kurt Angle and stripping him down to his underwear. The minister (who was knocked down) got up and said "I now pronounce you Man and Wife, you may now kiss the bride". The only problem was A.J. Styles was standing there with Karen Angle so he got excited and gave Karen a big kiss. |
| XVIII | Jay Lethal & So Cal Val | Slammiversary 2008, June 8, 2008, Southaven, Mississippi | Jay Lethal and So-Cal Val's wedding was interrupted and ruined by the "Best Man" Sonjay Dutt. George "The Animal" Steele, Kamala, "Birdman" Koko B. Ware, and Jake "The Snake" Roberts attended the wedding ceremony. |
| XIV | Edge & Vickie Guerrero | WWE Friday Night SmackDown!, June 18, 2008 | The wedding ceremony took place earlier in the day and highlights from it were shown at the beginning of the telecast. The wedding reception was featured during the show as La Familia set up their table at the top of the ramp. As the GM of SmackDown, Vickie Guerrero was able to make matches for her family's amusement. The end of the telecast featured Triple H showing a video he secretly recorded of Edge making out with the wedding planner, who later turned out to be Alicia Fox. |
Other/Unsure
Trivia
Stephanie McMahon has been in the most wedding ceremonies. She has been involved in four ceremonies.
The Billy and Chuck wedding gained a lot of mainstream attention for being one of the first televised homosexual weddings. Another homosexual wedding occurred between Buff E. and Mace Mendoza in USA Pro Wrestling.

To date, there has yet to be a wrestling wedding between two females.
See also