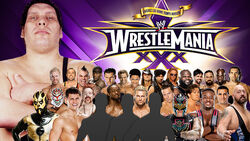 On Sunday, April 6, 30 Superstars will celebrate both the 30th anniversary of WrestleMania and one of the greatest WWE Superstars of all time when they compete in the first-ever Andre the Giant Memorial Battle Royal.
Announced by WrestleMania 30 host "The Immortal" Hulk Hogan — whose bodyslam of Andre at WrestleMania III in front of 93,000 WWE fans remains one of the most iconic Show of Shows moments — the contest will feature 30 competitors seeking to create a lasting WrestleMania moment, etch their name in the history book and capture the Andre the Giant Memorial Trophy, made in the image of the inaugural member of the WWE Hall of Fame, who was all but unbeatable in the battle royal format.
Watch Andre dominate the WrestleMania 2 20-Superstar Battle Royal on WWE Network
With so much on the line, this first-time-ever contest promises wild action and free-for-all mayhem, as the only way to win is to endure in the squared circle as 29 other Superstars are hurled over the top rope and onto the Mercedes-Benz Superdome's floor.
Immediately following Hogan's announcement of the contest, speculation began to "run wild" on who might enter the fray.
So far, the following Superstars have thrown their hats in the ring: