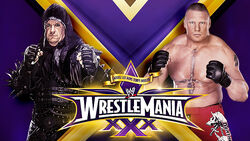 Since returning to WWE nearly two years ago, Brock Lesnar has basked in his wanton destruction, whether it was breaking the arms of WWE Legends, decimating Big Show with chairs or bringing Triple H to the brink of retirement.
At WrestleMania 30, however, the self-proclaimed No. 1 contender to the WWE World Heavyweight Champion will stare down perhaps his gravest challenge yet: The Undertaker.
The Deadman shockingly confronted The Beast Incarnate on the Feb. 24 edition of Raw. The Undertaker's unannounced appearance came as Lesnar and his advocate, Paul Heyman — given the opportunity by The Authority to name Lesnar's WrestleMania opponent — were prepared to turn down Triple H and Stephanie McMahon's offer.
To Lesnar and Heyman's surprise, WWE's one and only Deadman emerged. Seemingly changing his mind on the spot, Lesnar made no hesitation to sign the open contract before shoving a pen into Undertaker's chest. The Deadman took umbrage at The Beast's gesture, slamming the pen down into Lesnar's hand before chokeslamming him through a table in the middle of the ring. As The Undertaker gazed at the WrestleMania 30 sign that looms over the squared circle, the WWE Universe buzzed as the battle between the two juggernauts became official.
As the keeper of WWE's most extraordinary record going today, a flawless 21-0 WrestleMania Streak, The Undertaker has proven to be all but unbeatable at The Grandest Stage of Them All. Will the same be true when he faces the Heyman-coached Anomaly?
Even though it has been more than a decade since their last battle, The Undertaker and Lesnar are familiar foes, having famously warred during The Beast Incarnate's first run in WWE.
Now, the rematch that long seemed hypothetical will become a reality at The Showcase of The Immortals. Heyman insists his charge is the rightful top contender to WWE World Heavyweight Champion Randy Orton, and a victory over The Undertaker at WrestleMania, of all places, might be all the proof The Authority needs to agree. Yet, the opportunity for greatness is pocked with severe risk: Twenty-one times, The Undertaker has turned back challenges from WWE's top Superstars, from Triple H to Randy Orton to Shawn Michaels, at WrestleMania. Might the newest addition to the list be a Beast that has bested him before?