Stub

This article is a

stub

, an article too short to provide more than rudimentary information about a subject. You can

help

Pro Wrestling Wiki by

expanding it

.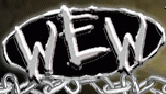 The following is a list of shows held by Women's Extreme Wrestling. The company is an all women wrestling organization. The company started off in the onld Extreme Championship Wrestling's Asylum Arena which is where Paul Heyman's ECW use to compete.
WEW History
List of Women's Extreme Wrestling events
No.
Title
Location
Date
Main Event
1
Extreme Hofare Vol 1
Philadelphia, Pennsylvania
February 22, 2002
Lady Storm vs. GI Ho
2
WEW Makes The PWO Takes
Philadelphia, Pennsylvania
April 6, 2002
Amanda Storm vs. GI Ho
3
Queen Ho Of The Ring
Philadelphia, Pennsylvania
August 1, 2002
Battle Royal to crown a WEW World Champion
4
WEW Busted in Miami
Miami, Florida
November 1, 2002
GI Ho vs. Amanda Storm for the WEW World Championship
5
WEW Deep Impact
Dover, Delaware
February 1, 2003
The Smoke and The Sound Guy vs. Phycho Bitch and Tai "Killer" Weed in a "I Hate Ho's" Tag team match"
6
WEW Kickin' Ass Ghetto Booty Style
Dover, Delaware
February 1, 2003
GI Ho (c) vs. Dawn Mae for the WEW World Championship
7
WEW As Good As She Gets
Dover, Delaware
May 1, 2003
No Rules, Anything Goes Battle Royal to crown a new WEW World Champion
8
WEW Hot Booties Get Kicked
Dover, Delaware
May 1, 2003
Pussy Willow vs. Gorgeous George
9
WEW Battle of the Hot Body Assassins
Philadelphia, Pennsylvania
September 1, 2003
Queen Ho of the Ring Hardcore Divas Battle royal for the WEW World Championship
10
WEW Ho Mania Kicks Butt
Philadelphia, Pennsylvania
November 1, 2003
GI Ho (c) vs. Dawn Mae for the WEW World Champion (from the 6th PPV)
11
WEW Big Pimpin Booty Kicks Butt
Ft. Lauderdale, Florida
January 1, 2004
Battle royal with the final two advancing to the next PPV to face off for the WEW World Title
12
WEW PWO's Hot Body Stick Up
Ft. Lauderdale, Florida
March 1, 2004
Tai Weed vs. Pussy Willow for the WEW World Championship
13
WEW Evolution of the Erotic Extreme
Jazz vs. Wild Fire in a Flaming Tables match
14
WEW Hardcore Booty Battle
Simply Luscious and Angel Orsini vs. Angel Williams and Traci Brooks in the tournament final for the WEW World Tag Team Championship
15
WEW On the Stroll to Destruction
Tai "Killer" Weed (c) vs. "Primetime" Amy Lee for the WEW World Championship
16
WEW Cleavage and Carnage
Tai Weed (c) vs. Dawn "GI Ho" Mae for the WIW World Championship
Dawn "GI Ho" Mae (c) vs. The New GI Ho for the WEW Hardcore Championship
17
WEW Diva Destruction
Tai Weed (c) vs. Persephone for the WEW World Championship
18
WEW No Rear Entry
Tara the Schoolgirl, Brittany the Schoolgirl, Bobcat, The Gorgeous One, and "The New" GI Ho (with So Cal Val) defeated Team Blondage (Chrissy Vaine and Amber Holly), Amy Lee, Dawn "GI Ho" Mae, and The Smoke (with Francine) in a 10-Person Tag team match for ownership of the company
19
WEW Squared Circle Seduction
The New GI Ho (c) vs. Dawn "GI Ho" Mae in a Lumberjack match for the WEW Hardcore Championship
20
WEW No Ho's Barred
Mercedes Martinez vs. Jazz vs. Simply Luscious vs. Angel Orsini in a Fatal four way match for the vacant WE World Championship
21
WEW The Return of the PWO
Jazz (c) vs. Simply Luscious for the WEW World Championship
22
WEW Celebrity Ho Down
Hell's Bells (Annie Social and Shane Hardcore) defeated Benji and The Smoke
23
WEW Night of Erotic Insanity
Jazz (c) vs. Angel Orsini for the WEW World Championship
24
WEW Nude World Order
XXX Rumble for the WEW XXX Championship
25
WEW Nude Ring Anarchy
20-Diva Battle Royal for a special prize
26
WEW Nude Locker Room Mayhem
Amy Lee vs. Tai Weed in a Lumberjack match
27
WEW Nude and Nasty
Mercedes Martinez vs. Simply Luscious in a Ladder match
28
WEW Tag Team Nudes
Amy Lee vs. Tai in a qualifying match for a shot at the WEW World Championship
29
WEW Nude Battles
October 21, 2006
Angel Orsini vs. Simply Luscious vs. Mercedes Martinez vs. Amy Lee in a Steel Cage match for the vacant WEW World Championship
30
WEW Nude Submission
March 28, 2007
Angel Orsini (c) vs. Mercedes Martinez for the WEW World Championship
31
WEW Nude Takedown
May 20, 2007
Gauntlet Battle royal match for the WEW Hardcore Championship
32
WEW Nude War Games
May 21, 2007
Angel Orsini (c) vs. Talia Madison for the WEW World Championship
33
WEW Nude Street Fight
July 12, 2007
Jazz vs. Angel Orsini in a Tables, Ladders, & Chairs match for a shot at the WEW World Championship
External Links