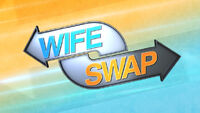 Wife Swap is an American reality television program that was first broadcast on the ABC network in 2004. In the program, two families, usually from different social classes and lifestyles, swap wives/mothers – and sometimes husbands – for two weeks. The program will usually deliberately swap wives with dramatically different lifestyles, such as a messy wife swapping with a fastidiously neat one, documenting the cultural and social differences that the two families discover with the new family member. A spin-off series of featuring celebrities debuted January 2, 2012 under the title Celebrity Wife Swap. On March 2, 2013, ABC confirmed that original Wife Swap would return March 21, 2013.
External links
Ad blocker interference detected!
Wikia is a free-to-use site that makes money from advertising. We have a modified experience for viewers using ad blockers

Wikia is not accessible if you've made further modifications. Remove the custom ad blocker rule(s) and the page will load as expected.