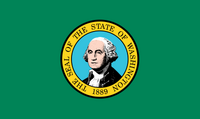 Washington (i/ˈwɒʃɪŋtən/) is a state in the Pacific Northwest region of the United States located north of Oregon, west of Idaho and south of the Canadian province of British Columbia, on the coast of the Pacific Ocean. Washington was carved out of the western part of Washington Territory which had been ceded by Britain in 1846 by the Oregon Treaty as settlement of the Oregon Boundary Dispute. It was admitted to the Union as the 42nd state in 1889.
Cities
Arenas
Events
Promotions
Wrestlers
External links
Ad blocker interference detected!
Wikia is a free-to-use site that makes money from advertising. We have a modified experience for viewers using ad blockers

Wikia is not accessible if you've made further modifications. Remove the custom ad blocker rule(s) and the page will load as expected.