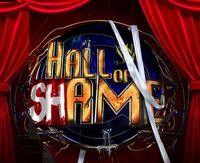 In professional wrestling, the WWE Hall of Shame was an institution that dishonors selected employees of World Wrestling Entertainment (formerly other figures who have contributed to wrestling and sports-entertainment in general.)
History
The Hall of Shame was created in 2012 with the induction of WWE alumnus Batista. However, the Hall of Shame was presumably discontinued in 2013 when there were no more inductions made to dishonor any fan-hated employee of WWE.
Inductees
Images
See also
External link
Ad blocker interference detected!
Wikia is a free-to-use site that makes money from advertising. We have a modified experience for viewers using ad blockers

Wikia is not accessible if you've made further modifications. Remove the custom ad blocker rule(s) and the page will load as expected.