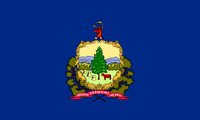 Vermont is a state in the New England region of the northeastern United States of America. The state ranks 43rd in land area, 9,250 square miles (24,000 km2), and 45th in total area. Its population according to the 2010 census, 630,337, is the second least populous in the country; larger only than Wyoming. It is the only New England state not bordering the Atlantic Ocean. Lake Champlain forms half of Vermont's western border, which it shares with the state of New York. The Green Mountains are within the state. It is bordered by Massachusetts to the south, New Hampshire to the east, New York to the west, and the Canadian province of Quebec to the north.
Cities
Arenas
Events
Wrestlers
External Links
Ad blocker interference detected!
Wikia is a free-to-use site that makes money from advertising. We have a modified experience for viewers using ad blockers

Wikia is not accessible if you've made further modifications. Remove the custom ad blocker rule(s) and the page will load as expected.