The Vendetta Pro Wrestling Heavyweight Championship was the primary professional wrestling championship contested for in the independent professional wrestling promotion Vendetta Pro Wrestling. The championship is generally contested in professional wrestling matches, in which participants execute scripted finishes rather than contend in direct competition. The other professional wrestling championships in Vendetta Pro are the Vendetta Pro Wrestling Tri-Force Championship which is a secondary title, the Vendetta Pro Wrestling Underground Championship which—with the exception of the tournament final to crown the first Champion—is only defended at Vendetta Pro Underground events, and the Vendetta Pro Wrestling Tag-Team Championship.
History
The title was created shortly before Vendetta Pro's first event, which was held on July 11, 2009 in Santa Maria, California. The first champion, "Sexy" Sean Casey, won a Battle Royal that night to become Champion.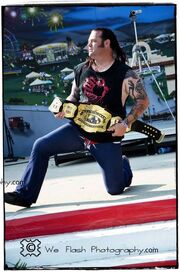 Since the title's inception, it's been held by former WWE superstars Chavo Guerrero, Jr. and Chris Masters. In 2012, Chavo Guerrero, Jr. held the Vendetta Pro Heavyweight title while simultaneously holding the TNA World Tag Team Championship. The title became vacant after El Hijo de Rey Misterio was unable to return to the United States to defend his title. Chavo defeated Joey Ryan for the vacant title. The two would later go on to meet in TNA for the TNA Tag titles. As Misterio still had the original Premier title belt in Mexico, Vendetta Pro used a substitute belt crafted by Top Rope Belts until a new Premier belt could be delivered. Guerrero would hold that belt for his full reign as Champion until losing it to Chris Masters at Terror Rising 2012. Masters would then be awarded the new belt which was identical to Vendetta Pro's original belt. Masters would defend the title in promotions across the United States, as well as in Canada, Mexico and parts of Europe. This being the case, although meeting a number of qualifications for it (not to mention, the belt reading "World Wrestling Champion"), Vendetta Pro doesn't promote the title as being a "World" class Championship.
Title history
Wrestler:
Times:
Date:
Location:
Notes:
"Sexy"
Sean Casey
1
July 11, 2009
Santa Maria, California

Won a Battle Royal to become the first Champion.

1
July 18, 2010
Paso Robles, California
"Gorgeous"
Joey kAos
1
March 12, 2011
Santa Maria, California
Title Vacant
Joey kAos was forced to relinquish the title as he was unable to meet commitments due to suffering an injury
Shannon Ballard
1
April 17, 2011
Las Vegas, Nevada

Won a "Casino Royale Rumble" to win the title, which was vacated by kAos due to injury.

Sunami
1
January 22, 2012
Lompoc, California

Defeated Ballard in a Vendetta Pro Wrestling record 28 seconds. Ballard, claiming injury, distracted the referee while Sunami was assaulted by the Midnight Delight. Then, Ballard agreed to participate in the match, and went for a lazy pin attempt. Sunami rolled him over, pinning him and winning the match.

Shannon Ballard
2
March 17, 2012
Santa Maria, California

Shannon's identical twin Shane switched places behind the referee's back, allowing him to get a surprise pin on Sunami. The official never knew it was Shane who made the pin.

El Hijo de
Rey Misterio
1
May 11, 2012
Santa Maria, California

Shannon's identical twin Shane once again attempted to switch places, but the plan backfired as Misterio pinned Shane.

Title Vacant
Commissioner Joseph Duncan announced on Vendetta Pro Radio that the Heavyweight title had been vacated, as El Hijo de Rey Misterio would be unable to meet his commitments due to an incident taking place outside of Vendetta Pro Wrestling
Chavo Guerrero, Jr.
1
July 28, 2012
Lompoc, California

Guerrero took on Joey Ryan in a singles match for the vacant title.

"The Masterpiece"
Chris Masters
1
October 27, 2012
Santa Maria, California

Defeated Rik Luxury, Sean Casey and Chavo Guerrero, Jr. in a Four-Way Elimination Match.

"The Rock of Love"
Billy Blade
1
May 19, 2013
Chowchilla, California
Kadin Anthony
1
April 4, 2014
Santa Maria, California
"The Rock of Love"
Billy Blade
2
May 16, 2014
Santa Maria, California
"Wrestling Personified"
Rik Luxury
2
August 2, 2014
Santa Maria, California

Earned his shot at the title with a disputed victory in the VendettaVersary Rumble

Lil Cholo
1
August 2, 2014
Santa Maria, California

Given an immediate title match by Commissioner Joseph Duncan following a review of the footage that showed that Rik Luxury had been eliminated from the VendettaVersary Rumble
See also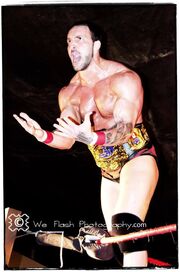 External links
References