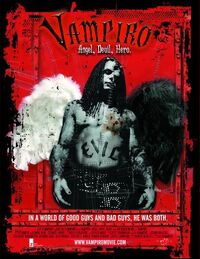 Vampiro: Angel, Devil, Hero is a 2008 Canadian documentary film about Ian Hodgkinson aka Vampiro, a professional wrestler who currently lives in Guadalajara, Jalisco. The film revolves around his biggest international tour and talks to him about life outside the ring.
Release
Vampiro has screened at the Monterrey International Film Festival, the Austin Film Festival and the Kingston Canadian Film Festival.
Awards
Vampiro won the Best Editing award at the Monterrey Int'l Film Festival and was ranked among the Top 10 Must See Movies by the Austin Film Festival.
External links
Ad blocker interference detected!
Wikia is a free-to-use site that makes money from advertising. We have a modified experience for viewers using ad blockers

Wikia is not accessible if you've made further modifications. Remove the custom ad blocker rule(s) and the page will load as expected.