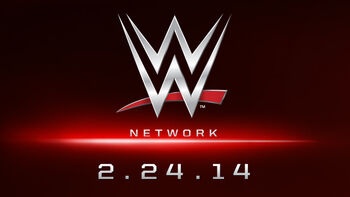 Exciting news, pro wrestling fans! WWE Network, the first-ever 24/7 streaming network, will launch live in the U.S. on Monday, February 24. The network features all 12 WWE live pay-per-view events – including WrestleMania, and is valued at more than $600 per year for $9.99 per month with a 6-month commitment. WWE Network will also include groundbreaking original programming, reality shows, documentaries, classic matches and more than 1,500 hours of video on demand at launch!
Fans can subscribe to WWE Network beginning at 9 am ET on Monday, February 24 at WWE.com, and for a limited time will be offered a free one week trial. The network will be available on desktops and laptops via WWE.com and through the WWE App on the following: Amazon's Kindle Fire devices; Android devices such as Samsung Galaxy; iOS devices such as Apple iPad and iPhone; Roku streaming devices; Sony PlayStation® 3 and Sony PlayStation® 4; and Xbox 360.
Along with original programming like The Monday Night War and Wrestlemania Rewind, the network will have new programs like WWE Legends House (April) and WWE Superstars. The WWE Network is scheduled to launch in the United Kingdom, Canada, Australia, New Zealand, Singapore, Hong Kong and the Nordics by the end of 2014/early 2015.

Are you excited for the WWE Network to launch? Share your thoughts and opinions on this new network below!
Are you excited for the WWE Network?
---
---