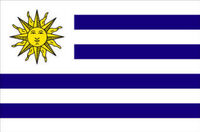 Uruguay officially the Oriental Republic of Uruguay and sometimes called the Eastern Republic of Uruguay, is a country in the southeastern part of South America. It is home 2 people, of whom 1.8 million live in the capital Montevideo and its metropolitan area. With an area of approximately 176,000 square kilometres (68,000 sq mi), Uruguay is the second-smallest nation in South America by area, after Suriname.
Cities
Arenas
Events
Promotions
Wrestlers
Also see
External Links
Ad blocker interference detected!
Wikia is a free-to-use site that makes money from advertising. We have a modified experience for viewers using ad blockers

Wikia is not accessible if you've made further modifications. Remove the custom ad blocker rule(s) and the page will load as expected.