Ad blocker interference detected!
Wikia is a free-to-use site that makes money from advertising. We have a modified experience for viewers using ad blockers

Wikia is not accessible if you've made further modifications. Remove the custom ad blocker rule(s) and the page will load as expected.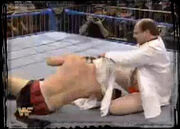 A Tuxedo match is similar to the Bra and Panties match, where the match is contested between 2 male competitors in tuxedos. In order to win you need to strip the opponent's tuxedo off of them. When special guest host ZZ Top scheduled a tuxedo match against Chavo Guerrero and Hornswoggle, they called it a Sharp Dressed Man Match, a reference to their hit song, Sharp Dressed Man.
History the Tuxedo match
| No. | Match | Event, date and location |
| --- | --- | --- |
| I | Paul Jones defeated Jimmy Valiant in a "Loser Leaves Town" Tuxedo Match | Starrcade 1984, November 22, 1984 |
| II | Jim Duggan defeated Ted DiBiase in a "Loser Leaves Town Tuxedo Street Fight Coal Miner's Glove Steel Cage Match" | Mid-South Wrestling Superdome Extravaganza (1985), March 30, 1985 |
| III | Hillbilly Jim defeated Mr. Fuji | WWF live event, October 18, 1986 |
| IV | Hillbilly Jim vs. Mr. Fuji | WWF live event, December 26, 1986, Madison Square Garden, New York, New YOrk |
| V | Jim Cornette vs. Paul E. Dangerously | The Great American Bash 1989, Baltimore Arena, Baltimore, Maryland |
| VI | Steve Austin (with Col. Rob Parker) defeated Johnny B. Badd after Parker pulled Badd's pants behind the referee's back. (7:15) | WCW Worldwide, March 1994 (aired on May 7, 1994), MGM Studios, Orlando, Florida |
| VII | Howard Finkel defeated Harvey Whippleman (with Kwang the Ninja) | WWE Raw, January 9, 1995 |
| VIII | Tony Chimel defeated Howard Finkel | WWE Friday Night SmackDown, September 2, 1999 |
| IX | Lilian Garcia defeated Howard Finkel in an Evening Gown/Tuxedo Match to become the new WWE Raw ring announcer | WWE Raw, August 26, 2002 |
| X | Cheerleader Melissa defeated Chris Colioni in an Evening Gown/Tuxedo Match | All Pro Wrestling Holiday in Hell, October 25, 2003, Hayward, California |
| XI | Cheerleader Melissa defeated Larry Blackwell in an Evening Gown/Tuxedo Match | All Pro Wrestling, December 4, 2004, Hayward, California |
| XII | Christy Hemme defeated Big Fat Oily Guy in an Evening Gown/Tuxedo Match | Against All Odds 2007, February 12, 2007, Orlando, Florida |
| XIII | Nikki Roxx defeated Sean Gorman in a "Ballroom Blitz Match" (Evening Gown/Tuxedo Match) | New England Championship Wrestling Birthday Bash 7: Caged Fury, August 18, 2007 |
| XIV | Hornswoggle defeated Chavo Guerrero, Jr. in a "Sharp Dressed Man" (Tuxedo Match) | WWE Raw, July 20, 2009 |
| XV | Porky Fields (with Liz Fields) defeated "The Mastermind" Steven Stockwell | Chicago All Star Wrestling, August 22, 2009, Chicago, Illinois |
| XVI | Santino Marella defeated Ricardo Rodriguez | No Way Out 2012, June 17, 2012, East Rutherford, New Jersey |
Other/Unsure
Trivia
External Links