TNA Turkey Bowl
The TNA Turkey Bowl was a tournament held in 2007 and 2008 that aired on the Thanksgiving night episode of TNA Impact! The tournament consisted of three preliminary three way matches. Each match featured a member of the Heavyweight Division, The X Division, and The Tag Team Division with the winner of the match going on to the finals. The winner of the finals, also a three way match, won $25,000. The wrestler who lost in the finals was forced to put on a turkey suit. In the 2007 tourny, Samoa Joe won the tournament, with A.J. Styles being forced into the turkey suit. In the 2008 tournament, Rhino won the tournament, with Alex Shelley being forced into the turkey suit.
2007 Turkey Bowl
2008 Turkey Bowl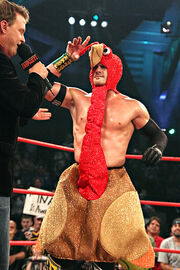 Ad blocker interference detected!
Wikia is a free-to-use site that makes money from advertising. We have a modified experience for viewers using ad blockers

Wikia is not accessible if you've made further modifications. Remove the custom ad blocker rule(s) and the page will load as expected.