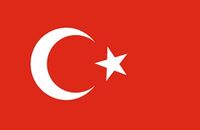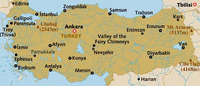 Turkey, officially the Republic of Turkey, is a contiguous transcontinental parliamentary republic largely located in Western Asia with the portion of Eastern Thrace in Southeastern Europe. Turkey is bordered by eight countries: Bulgaria to the northwest; Greece to the west; Georgia to the northeast; Armenia, Iran and the Azerbaijani exclave of Nakhchivan to the east; and Iraq and Syria to the south. The Mediterranean Sea is to the south; the Aegean Sea to the west; and the Black Sea to the north. The Sea of Marmara, the Bosphorus and the Dardanelles (which together form the Turkish Straits) demarcate the boundary between Thrace and Anatolia; they also separate Europe and Asia. Turkey's location at the crossroads of Europe and Asia makes it a country of significant geostrategic importance.
Cities
Arenas
Events
Promotions
Wrestlers
Also see
External Links
Ad blocker interference detected!
Wikia is a free-to-use site that makes money from advertising. We have a modified experience for viewers using ad blockers

Wikia is not accessible if you've made further modifications. Remove the custom ad blocker rule(s) and the page will load as expected.