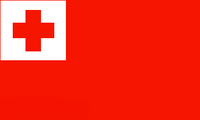 Tonga officially the Kingdom of Tonga, is a Polynesian sovereign state and an archipelago comprising 176 islands with a surface area of about 750 square kilometres (290 sq mi) scattered over 700,000 square kilometres (270,000 sq mi) of the southern Pacific Ocean. Fifty-two of these islands are inhabited by its 103,000 people.
Lengthwise, the kingdom stretches over a distance of about 800 kilometres (500 mi) in a north-south line located about a third of the distance from New Zealand to Hawaii. It is surrounded by Fiji and Wallis and Futuna (France) to the northwest, Samoa to the northeast, Niue to the east, Kermadec (part of New Zealand) to the southwest, and New Caledonia (France) and Vanuatu to the west.
Cities
Arenas
Events
Promotions
Wrestlers
Also see
External Links
Ad blocker interference detected!
Wikia is a free-to-use site that makes money from advertising. We have a modified experience for viewers using ad blockers

Wikia is not accessible if you've made further modifications. Remove the custom ad blocker rule(s) and the page will load as expected.