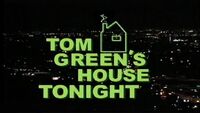 Tom Green's House Tonight (formerly known as Tom Green Live!) is a talk show hosted by Tom Green. In addition to its primary Internet broadcast on TomGreen.com, the show has been syndicated on television stations throughout North America.
External links
Ad blocker interference detected!
Wikia is a free-to-use site that makes money from advertising. We have a modified experience for viewers using ad blockers

Wikia is not accessible if you've made further modifications. Remove the custom ad blocker rule(s) and the page will load as expected.