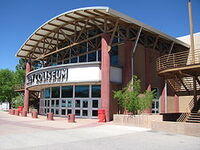 The Tingley Coliseum is an 11,571-seat multi-purpose arena in Albuquerque, New Mexico. Originally built as a rodeo and horse show auditorium, it is located at 300 San Pedro Drive N.E.
Until spring 2005, it was home to the New Mexico Scorpions ice hockey team (since relocated to the new Santa Ana Star Center in Rio Rancho, New Mexico). It was most recently home to the Albuquerque Thunderbirds of the NBA Development League, until their move to the Santa Ana Star Center in Rio Rancho in 2010.
Events
External links
Ad blocker interference detected!
Wikia is a free-to-use site that makes money from advertising. We have a modified experience for viewers using ad blockers

Wikia is not accessible if you've made further modifications. Remove the custom ad blocker rule(s) and the page will load as expected.