Stub

This article is a

stub

, an article too short to provide more than rudimentary information about a subject. You can

help

Pro Wrestling Wiki by

expanding it

.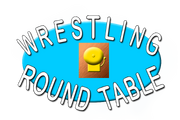 The Wrestling Roundtable is the first wrestling/MMA-themed discussion show on YouTube to feature a combination of critical thinking and sophomoric humor. We discuss the latest happenings and people in the worlds pro wrestling & mixed martial arts, as well as delving in to their histories. Every show features two topics from these areas, as our purpose is to entertain, engage and enlighten the pro wrestling and/or Mixed Martial Arts fan at large ; to show you the bigger picture, things to consider and perhaps interesting facts or viewpoints that you haven't been exposed to before.
Personalities Involved
Show Episodes
Season 1
| No. | Date | Topics Featured |
| --- | --- | --- |
| 1 | December 1, 2007 | Chris Benoit, his legacy, and his impact on wrestling as a whole. Will his horrible murders affect wrestling in any way? Will wrestling change at all? How does wrestling compare to other sports in terms of taking care of the athletes? |
| 2 | December 8, 2007 | The panel discusses the problems TNA faces in trying to make it in the modern day wrestling TV landscape. Who should be main eventing? Does TNA rely too much on castoffs & old stars? And who exactly is going to buy a Tomko t-shirt? |
| 3 | December 23, 2007 | In this Christmas...whoops, HOLIDAY Edition of the Wrestling Roundtable, we'll be going over WWE's Monday Night RAW 15th Anniversary Show. Was this show entertaining? We were supposed to enjoy it, after all. Did we enjoy this show like Mick Foley hoped? Does WWE, or RAW specifically, need a format shake up? Is it too predictable? Do wrestling fans have short memories? Was RAW bigger than Armageddon? How was the pay-per-view? |
| 4 | December 30, 2007 | In the last Wrestling Roundtable of the year, for the week of December 30th, the panel discusses some of the biggest stories of the year for WWE & TNA : Chris Benoit's murders and their effects on the Mr. McMahon death storyline which subsequently lead to Mr. Kennedy's de-push in favor of Hornswaggle, John Cena's injury curtailing the biggest star they had, Randy Orton winning the WWE title, Mr. Kennedy on the brink of a main event push, Triple H tearing his other quad, WrestleMania 23, Samoa Joe's shoot on pay per view and whether others will quit, Kurt Angle's TNA run, NWA's split from TNA, Vince McMahon as ECW Champion, and which wrestler shined the most in 2007(besides Kevin Nash) are covered among others. Could MVP their next big star? |
| 5 | January 20, 2008 | Happy Dew Year! For the first show of the year, the panel will discuss whom Jim Ross called the "most controversial champion" of the modern WWE era, John Cena. Has there ever been anyone like him in wrestling? Why didn't the WWE panic & turn him heel when he was being booed so heavily? Why do the fans, or portions of the fans at least, hate him in the first place? How does Triple H factor in to the picture? When & why did Cena lose the fans that used to cheer him? Did the man famous for the FU and the 5 Knuckle Shuffle lose his edge to become more marketable? How limited is his wrestling ability? What will the reaction be when he comes back? Will he get the same reactions as before, or will they be different? Will The Marine finally turn heel? Should he or shouldn't he? Is comparing Mr. "Hustle Loyalty Respect" in the 00s to Hulk Hogan in the 80s fair? And if it is, is that because of the common distorted smart mark perception of what a 'good worker' is? Do the male fans hate him because of his 'bad' wrestling, because the kids like him, the females think he's sexy, or all of the above? Does any one else hate the spinning belt as much as me? |
External Links