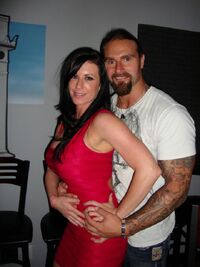 Chad Lail (ring name Gunner) and Jayme Jameson were a couple both involved in professional wrestling. It is not known when they first married. While they were married, they often appear together at various wrestling venues. The Lails were never seen together publicly on televised promotions. Both are recognized for their individual success in wrestling, as Gunner is know for his time and work with Total Nonstop Action Wrestling and Jameson for her work throughout various independent promotions as well as SHINE Wrestling. The couple later divorced.
See also
Ad blocker interference detected!
Wikia is a free-to-use site that makes money from advertising. We have a modified experience for viewers using ad blockers

Wikia is not accessible if you've made further modifications. Remove the custom ad blocker rule(s) and the page will load as expected.