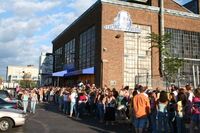 The Electric Factory is a concert venue in Philadelphia, Pennsylvania.
The original "Electric Factory" venue was a converted tire warehouse at 22nd and Arch Streets, which opened in 1968, and was originally called the "Electric Factory and Flea Market." A few doors down on the north side of Arch Street, between 21st and 22nd streets, was the first concert venue in that area, independent of the Electric Factory, a place called the "Trauma." The first performers, on February 2, 1968, were the Chambers Brothers. The building closed in 1973, and was eventually torn down and replaced with condominiums.
Events
External links
Ad blocker interference detected!
Wikia is a free-to-use site that makes money from advertising. We have a modified experience for viewers using ad blockers

Wikia is not accessible if you've made further modifications. Remove the custom ad blocker rule(s) and the page will load as expected.