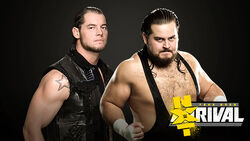 NXT's biggest monsters will collide once again at Takeover: Rival on Feb. 11. However, this time, the rulebook will be thrown out the window, as Baron Corbin and Bull Dempsey clash in a No Disqualification Match.
Dempsey has been keeping a close eye on Corbin in recent months, watching as The Lone Wolf racked up victory after victory in mere seconds. The two titans began staring each other down in recent weeks, before coming to blows in a pull-apart brawl.
The undefeated Corbin and Bull finally met in the ring on the Jan. 14 edition of NXT, with Baron showing off tremendous strength, lifting the 300-pound New York Nightmare up for End of Days to win a hard-hitting sprint of a brawl.
The giants met once again in the first round of the NXT Championship No. 1 Contender's Tournament on Jan. 28, with the result being the same – Dempsey on the wrong end of Corbin's devastating finisher. While many thought that was the end between the two, Dempsey refused to let that be the final match. Desperate for revenge, Bull interjected himself into The Lone Wolf's semi-final match against Adrian Neville. Corbin looked impressive against the former NXT Champion, until Dempsey blindsided him and ran him shoulder-first into the steel ring post. The sneak attack gave Neville the opening to hit the Red Arrow and hand Corbin his first loss in NXT, putting a huge grin on Dempsey's face.
Because of that, NXT General Manager William Regal made the No Disqualification Match between the two rivals. With no rules, there's no telling what mayhem NXT's resident titans will unleash when they lock horns. Who will be left standing after this huge brawl? Find out at NXT TakeOver: Rival, LIVE on WWE Network Wednesday, Feb. 11 at 8 p.m. ET/5 p.m. PT! Don't forget, WWE Network is free in February for all new subscribers, including TakeOver and the all-new pay-per-view WWE Fastlane! Sign up now to catch all the action!
See also