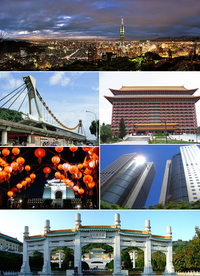 Taipei, officially known as Taipei City (Chinese: 臺北市 or 台北市; pinyin: Táiběi Shì; Pe̍h-ōe-jī: Tâi-pak Chhī), is the capital city and a special municipality of Taiwan. Situated at the northern tip of Taiwan, Taipei City is an enclave of the municipality of New Taipei. It is about 25 km (16 mi) southwest of the northern port city Keelung. The city is mostly located on the Taipei Basin, an ancient lakebed bounded by the two relatively narrow valleys of the Keelung and Xindian rivers, which join to form the Tamsui River along the city's western border.
Arenas
Events
Wrestlers
Ad blocker interference detected!
Wikia is a free-to-use site that makes money from advertising. We have a modified experience for viewers using ad blockers

Wikia is not accessible if you've made further modifications. Remove the custom ad blocker rule(s) and the page will load as expected.