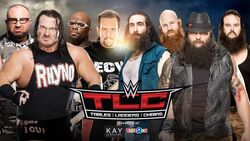 The Wyatt Family will get a taste of the extreme side of sports-entertainment when they take on The Dudley Boyz, Tommy Dreamer & Rhyno, four of ECW's most enduring competitors, in an 8-Man Elimination Tables Match this Sunday at WWE TLC. All four members of a team will have to be driven through a table for there to be a winner.
The bad blood between The Wyatts and the ECW Originals began the night after Survivor Series, when Bray Wyatt & Luke Harper took on The Dudleys in tag team action. The monstrous presence of Erick Rowan & Braun Strowman proved to be a big distraction for the legendary tag team, who were defeated after Harper clobbered Bubba Ray with a discus clothesline. The Wyatt Family wasn't finished, though, as Strowman put Bubba to sleep with his ruthless bear hug and The Eater of Worlds hit D-Von with Sister Abigail.
Lumber was introduced to the budding rivalry just days later on the Thanksgiving edition of SmackDown, when the camo-clad brothers took on Strowman & Rowan. The Dudleys had the upper hand and were primed to put one of the backwater brawlers through a table, until Harper interfered, kicking off a 4-on-2 beatdown that ended with Bubba Ray being driven through a table.
The Dudley Boyz knew they needed backup if they wanted to take on The Wyatts. Fortunately, the bond among ECW Originals runs deep, meaning an extreme ally is only a call away. Armed with a trashcan full of plunder, Tommy Dreamer returned to WWE on the Nov. 30 Raw to help The Dudleys force The Wyatt Family into a temporary retreat. However, the ensuing Six-Man Tag Team Battle broke down into anarchy, with Harper, Rowan & Strowman gaining the upper hand. The Wyatt Family mocked the extreme trio as they brought a table into the ring. Bray Wyatt didn't plan for Bubba Ray to get back to his feet and shove him through a table set up a ringside, sending his family into a frenzy.
The Wyatt Family got a measure of payback on SmackDown the following Thursday. Following The New Face of Fear's victory over D-Von Dudley, Bubba and Dreamer tried to prevent any more carnage, but could not overcome the massive monsters. Bubba was put to sleep again by Strowman, while Dreamer was viciously driven through a table by Rowan.
The ECW Originals finally evened the odds on the Dec. 7 edition of Raw when they were joined by former ECW Champion Rhyno. The Man Beast joined The Dudleys and Dreamer in a 16-Man Elimination Fatal 4-Way Match against The Wyatts, The League of Nations and Roman Reigns, Dean Ambrose & The Usos. After The Wyatts were ousted from the fray by the hardcore warriors, Braun Strowman demanded a match with Dreamer, which quickly turned chaotic.
See also