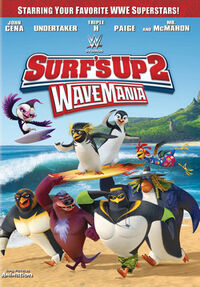 Surf's Up 2: WaveMania is an upcoming movie in 2017 The film is being co-produced by WWE Studios and Sony. It is the sequel to the 2007 hit Surf's Up.
Description
Cody Maverick, hungry for a new challenge, convinces an infamous big wave riding crew known as The Hang 5, voiced by WWE Superstars John Cena, The Undertaker, Triple H, WWE Diva Paige and Mr. McMahon, to let him join them on their journey to a mysterious surf spot known as The Trenches, where legend has it, they'll find the biggest waves in the world. Cody soon discovers that the life he left behind might be more heroic than what any death-defying wave has to offer.
Ad blocker interference detected!
Wikia is a free-to-use site that makes money from advertising. We have a modified experience for viewers using ad blockers

Wikia is not accessible if you've made further modifications. Remove the custom ad blocker rule(s) and the page will load as expected.