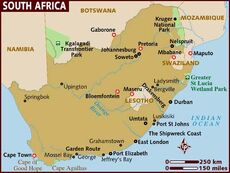 South Africa, officially the Republic of South Africa, is a country located at the southern tip of Africa. It has 2,798 kilometres (1,739 mi) of coastline that stretches along the South Atlantic and Indian Oceans. To the north lie the neighbouring countries of Namibia, Botswana and Zimbabwe; to the east are Mozambique and Swaziland; while within it lies Lesotho, an enclave surrounded by South African territory. South Africa is the 25th-largest country in the world by land area, and with close to 53 million people, is the world's 24th-most populous nation..
Cities
Arenas
Events
Promotions
Wrestlers
External Links
Ad blocker interference detected!
Wikia is a free-to-use site that makes money from advertising. We have a modified experience for viewers using ad blockers

Wikia is not accessible if you've made further modifications. Remove the custom ad blocker rule(s) and the page will load as expected.