Ad blocker interference detected!
Wikia is a free-to-use site that makes money from advertising. We have a modified experience for viewers using ad blockers

Wikia is not accessible if you've made further modifications. Remove the custom ad blocker rule(s) and the page will load as expected.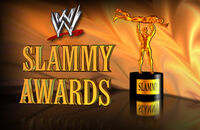 The Slammy Awards was a campy WWF version of the Academy Awards/Grammy Awards. Professional wrestlers appeared, lip-synching to songs they had originally recorded for The Wrestling Album, which was released in 1986, and performing skits. The first one aired in 1986, with another airing in 1987. The concept was resumed in 1996 and 1997. The Slammy Awards returned in 2008 as part of a 3 hour edition of Monday Night Raw on December 5.
1986 Slammy Awards
1987 Slammy Awards
1994 Slammy Awards
1996 Slammy Awards
1997 Slammy Awards
2008 Slammy Awards
2009 Slammy Awards
2010 Slammy Awards
2011 Slammy Awards
2012 Slammy Awards
2013 Slammy Awards
2014 Slammy Awards
2015 Slammy Awards