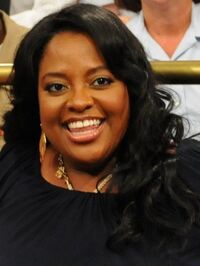 Sherri Evonne Shepherd (born April 22, 1967) is an American comedienne, actress, and television personality. She is one of five co-hosts on the ABC daytime talkshow The View, currently hosts the Newlywed Game, and had a recurring role as Angie Jordan on the NBC series 30 Rock. As an actress, she has starred in the sitcom Less than Perfect and her own sitcom Sherri on Lifetime. Shepherd previously had a recurring role on the sitcom Everybody Loves Raymond as police Sgt. Judy Potterbrother, the partner of officer Robert Barone.
In Wrestling
She appeared in the May 1, 2009 edition of Smackdown as a valet to MVP.
Ad blocker interference detected!
Wikia is a free-to-use site that makes money from advertising. We have a modified experience for viewers using ad blockers

Wikia is not accessible if you've made further modifications. Remove the custom ad blocker rule(s) and the page will load as expected.