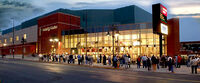 Sovereign Center is a 7,083-seat multi-purpose arena, in Reading, Pennsylvania. It was built in 2001. The arena sits on the former site of the Astor Theatre; One of several grand movie and theater palaces built in Reading in the early 20th century. Closed in 1975, the theater sat vacant for over two decades. In 1998, the Astor was demolished to make room for the Sovereign Center. Early in construction, steps were taken to retain mementos of the Astor; Including its ornate Art Deco chandelier and gates. These are on display and in use inside the arena corridors, allowing insight into the ambiance of the former movie house.
Events
External links
Ad blocker interference detected!
Wikia is a free-to-use site that makes money from advertising. We have a modified experience for viewers using ad blockers

Wikia is not accessible if you've made further modifications. Remove the custom ad blocker rule(s) and the page will load as expected.