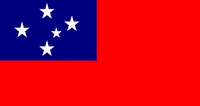 Samoa officially the Independent State of Samoa, formerly known as Western Samoa, is a country encompassing the western part of the Samoan Islands in the South Pacific Ocean. It became independent from New Zealand in 1962. The two main islands of Samoa are Upolu and one of the biggest islands in Polynesia, Savai'i. The capital city, Apia, and Faleolo International Airport are situated on the island of Upolu.
Cities
Arenas
Events
Promotions
Wrestlers
Also see
External Links
Ad blocker interference detected!
Wikia is a free-to-use site that makes money from advertising. We have a modified experience for viewers using ad blockers

Wikia is not accessible if you've made further modifications. Remove the custom ad blocker rule(s) and the page will load as expected.