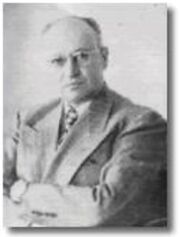 Salvador Lutteroth (1897–1987; born Salvador Lutteroth González) was a Mexican professional wrestling promoter of the mid-twentieth century. Lutteroth's promotion, Empresa Mexicana de Lucha Libre (EMLL), was the dominant Mexican promotion since its founding in 1933, until Lutteroth left the company in the 1970s. Under its current name of Consejo Mundial de Lucha Libre (CMLL), it is, as of 2007, the longest running active professional wrestling promotion in the world. Lutteroth was known as the "father of lucha libre," and, in his position as promoter and booker of the dominant promotion, was the most powerful man in Mexican wrestling, and one of the most powerful wrestling executives in the world. He was, in large part, responsible for the widespread fame of the most famous Mexican professional wrestlers of the mid-twentieth century, including Santo and Gory Guerrero.
External links
Ad blocker interference detected!
Wikia is a free-to-use site that makes money from advertising. We have a modified experience for viewers using ad blockers

Wikia is not accessible if you've made further modifications. Remove the custom ad blocker rule(s) and the page will load as expected.