Ad blocker interference detected!
Wikia is a free-to-use site that makes money from advertising. We have a modified experience for viewers using ad blockers

Wikia is not accessible if you've made further modifications. Remove the custom ad blocker rule(s) and the page will load as expected.
Stub

This article is a

stub

, an article too short to provide more than rudimentary information about a subject. You can

help

Pro Wrestling Wiki by

expanding it

.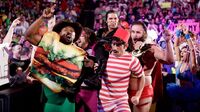 The Rosebuds are the members who accompany Adam Rose to the ring. They are generally composed of other NXT talent or independent wrestlers. The Rosebuds have appeared in WWE video game, WWE 2K15 in Adam Rose's entrance.
List of Rosebuds
| Name | Appearances |
| --- | --- |
| Alexa Bliss | |
| Ayesha Ray | RAW - November 10, 2014. |
| Becky Lynch | |
| Braun Strowman | RAW - May 26, 2014. |
| Bull Dempsey | |
| Cal Bishop | |
| Caleb Konley | |
| Carmel Jacob | RAW - November 10, 2014. |
| Chasity Taylor | May 2014 |
| Chelsea Hagan | |
| Claire Mc Glynn | |
| D'Arcy Dixon | |
| Dana Langshaw | |
| Dave Turner | Superstars - August 14, 2014. |
| Deonna Purrazzo | |
| Grace Langshaw | |
| Jamin Olivencia | |
| Jayme Jameson | |
| Kaela | |
| Kaitlin Diemond | |
| Kalisto | |
| Katie Barbie | |
| Katy Emma | RAW - November 10, 2014. |
| Kazza G | |
| Karissa Rivera | |
| Kellen Raeth | Superstars - August 14, 2014. |
| Kenzie Sykes | Smackdown - October 31, 2014. |
| Leah Von Dutch | RAW - November 10, 2014. |
| Leva Bates | |
| Mandy Leon | Raw - July 14, 2014. |
| Mary Elizabeth Monroe | |
| Mia Yim | |
| Miranda | Smackdown - October 31, 2014. |
| Miss Adiva | |
| Miss Louis Jane | RAW - November 10, 2014. |
| Nikki Galladay | |
| Nikki Storm | RAW - November 10, 2014. |
| QT Marshall | |
| Rachel Caridee | |
| Ray Lyn | |
| Rayna Von Tosh | |
| Renee Michelle | 2014 Slammy Awards - December 8, 2014. |
| Reyna | Smackdown - October 31, 2014. |
| Roxie Cotton | |
| Ryan Katz | |
| Sara-Marie Taylor | RAW - November 10, 2014. |
| Scarlett Bordeaux | RAW - May 5, 2014. |
| Shanna | |
| Shelly Burris | |
| Simon Gotch | RAW - May 26, 2014. |
| Solomon Crowe | |
| Taeler Hendrix | |
| Tessa Blanchard | May 2014 |
| Thea Trinidad | June 2014 (multiple times). |