Home
Talk

58
46,375pages on
this wiki
Pro Wrestling Wiki
is a fan-created website about the WWE and other pro wrestling franchises. The wiki format allows anyone to create or edit any article, so we can all work together to collect everything there is to know about Pro Wrestling. Hit
Edit this page
to contribute! Not sure where to start? We're trying to get all the wrestler pages to match a common template, like the one seen for
Hulk Hogan
. If you see a wrestler page that isn't set up like that, it'd be a big help if you fix it up! Please read
Editing Tips
to keep up with editing changes on this Wikia site.
Feel free to add us on Facebook.
, or just like us at
Love Pro Wrestling Wikia
. Follow us
Pro Wrestling Wiki
on Twitter
.
Promotions
Promotion Of The Month

Extreme Championship Wrestling (ECW), was a professional wrestling promotion that was founded in Philadelphia, Pennsylvania in 1992 by Tod Gordon and closed when his successor, Paul Heyman, declared bankruptcy in April 2001. After subsequently purchasing the assets of ECW, World Wrestling Entertainment relaunched the Extreme Championship Wrestling franchise as a WWE brand from June 2006 until February 2010 to complement their existing Raw and SmackDown brands.
The promotion showcased various international styles of professional wrestling, ranging from lucha libre to puroresu to hardcore wrestling.
Read more...

Poll
Have you bought the WWE Network?
Male Wrestler of the Month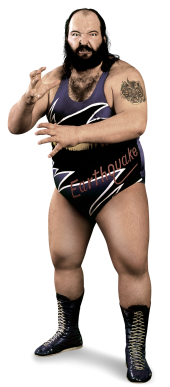 John Anthony Tenta, Jr. (June 22, 1963 - June 7, 2006) was a Canadian sumōtori and professional wrestler best known for his work in the World Wrestling Federation as Earthquake. After a promising start to his sumo career, using the name Kototenzan, Tenta switched to professional wrestling and became a high-profile star for the WWF, feuding with Hulk Hogan and winning the WWF Tag Team Championship with partner, and personal friend, Typhoon. His professional wrestling career also encompassed runs in World Championship Wrestling, where he was known as Avalanche and The Shark, All Japan Pro Wrestling and a return to WWF as Golga. Tenta died in 2006 after a lengthy battle with cancer.
John Tenta was born in Surrey, British Columbia. Named after his father, he was a large baby weighing 11 pounds, 3 ounces at birth. Inspired by professional wrestlers Gene Kiniski and Don Leo Jonathan, Tenta decided to pursue wrestling at age 6. He learned freestyle wrestling at North Surrey Secondary, becoming a Canadian junior champion in 1981. Shortly after his 18th birthday, he finished sixth in the super-heavyweight category at the World Junior Wrestling Championships at Vancouver.
Tenta won an athletic scholarship to Louisiana State University (LSU), where he competed in NCAA-level collegiate wrestling. At LSU he was nicknamed "Big John" Tenta, lettering on the Tiger varsity wrestling team and participating on the football team. LSU had dropped varsity wrestling to comply with Title IX in 1985, forcing Tenta to choose a new sport. Tenta then walked on to the LSU football team, where he played in some junior varsity games as a defensive lineman. He was also known as a quiet giant bar bouncer at an LSU college bar, The Bengal. Tenta also played rugby union for the LSU Rugby Club.
Read more...

Featured Article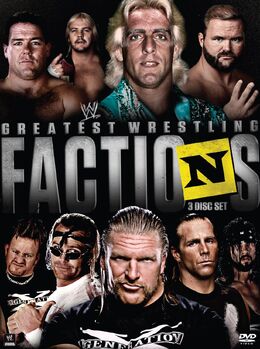 Greatest Wrestling Factions is a DVD produced by World Wrestling Entertainment. It was released on May 27, 2014.
Read more..
News
Loading RSS data...
Refresh
Featured PPV
TLC: Tables, Ladders & Chairs 2014 is an upcoming professional wrestling pay-per-view (PPV) event produced by WWE which will take place on December 14, 2014. It will be held at the Quicken Loans Arena in Cleveland, Ohio. It will be the 6th annual TLC: Tables, Ladders & Chairs event.

Tables, Ladders & Chairs will feature professional wrestling matches involving different wrestlers from pre-existing scripted feuds, plots, and storylines that developed on WWE's television programs. Wrestlers portrayed villains or heroes as they follow a series of events that build tension and culminated in a wrestling match or series of matches.
Read more..

Female Wrestler of the Month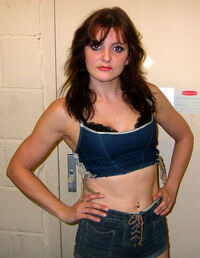 Julia Hamer-Bevis (October 19, 1971) is an English professional wrestler, better known by her ring names Sweet Saraya and Saraya Knight.
In 1990 Hamer left her home in Halifax to take up employment as a chef at the Pontins holiday camp in for the summer season. One day while working in the restaurant she met Ricky Knight, a professional wrestler, part of the cabaret circuit. The two became inseparable, and Julia soon left Pontins to travel with Rick full-time. She became involved in making wrestling costumes and putting the rings up and down. A few months later, Ricky said he wanted her to be part of the show, as a manager in his corner. At Camber Sands, Julia made her debut as Saraya. When the summer season finished Julia joined the Sensational Superflys (Ricky & Jimmy Ocean) as their manager. In 1993 Ricky put it to Saraya that she may want to wrestle. She readily agreed, and was a quick learner, debuting in later that year against Nikki Best.
Read more...
Pro Wrestling Twitter Feed