Home
Talk

58
33,619pages on
this wiki
Pro Wrestling Wiki
is a fan-created website about the WWE and other pro wrestling franchises. The wiki format allows anyone to create or edit any article, so we can all work together to collect everything there is to know about Pro Wrestling. Hit
Edit this page
to contribute! Not sure where to start? We're trying to get all the wrestler pages to match a common template, like the one seen for
Hulk Hogan
. If you see a wrestler page that isn't set up like that, it'd be a big help if you fix it up! Please read
Editing Tips
to keep up with editing changes on this Wikia site.
Feel free to add us on Facebook.
, or just like us at
Love Pro Wrestling Wikia
. Follow us
Pro Wrestling Wiki
on Twitter
.
Promotions
Promotion Of The Month
Total Nonstop Action (TNA) Wrestling, is a privately held professional wrestling promotion founded by Jeff Jarrett and Jerry Jarrett. The company is active in the integrated-media industry, broadcasting its events on television and the Internet. TNA also gains revenue from live events, product licensing, and direct product sales. Dixie Carter is the President of the company and co-founder Jeff Jarrett is the Vice President. In 2002, Panda Energy International purchased a controlling share in TNA. The company has its headquarters in Orlando, Florida; its trading company TNA Entertainment, LLC operates out of Nashville, Tennessee. The company previously bore the name "NWA Total Nonstop Action" — at the time of its formation it belonged to the National Wrestling Alliance (NWA). TNA was granted exclusive rights to both the NWA World Heavyweight Championship and the NWA World Tag Team Championship. TNA withdrew from the NWA in 2004, but was permitted to continue to use the championships until the NWA abrogated the agreement in May 2007. TNA became the first American promotion to make exclusive use of a six sided wrestling-ring (as opposed to the more conventional four-sided ring). However, in 2010, the company reverted to the standard four sided ring. The organization also employed the unconventional rule that a championship can change hands as the result of a disqualification or countout, but has sinced phased out this rule. Read more...

Poll
Who will win the Elimination Chamber match?
Male Wrestler of the Month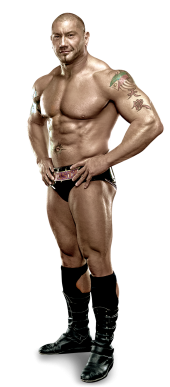 David Michael "Dave" Bautista, Jr. (January 18, 1969) is an American actor, mixed martial artist, bodybuilder, and professional wrestler who is currently signed to WWE, where he performs under the ring name Dave Batista or simply Batista. He is a six-time world champion, winning the World Heavyweight Championship four times and the WWE Championship twice. He is the longest-reigning World Heavyweight Champion in WWE history, and has won the World Tag Team Championship three times (twice with Ric Flair and once with John Cena) and the WWE Tag Team Championship once (with Rey Mysterio). He was also the winner of the 2005 Royal Rumble match and went on to headline WrestleMania 21, one of the top five highest-grossing pay-per-view events in pro wrestling history.
After trying out at World Championship Wrestling's Power Plant, Batista signed a contract with the WWF in 2000 and was sent to its developmental territory, Ohio Valley Wrestling (OVW), where he won the OVW Heavyweight Championship.
In August 2012, Bautista signed a contract with Classic Entertainment & Sports to fight in mixed martial arts. He won his MMA debut on October 6, 2012, defeating Vince Lucero via TKO in the first round.
Batista was born in Washington, D.C. His father, David Michael Bautista, is the son of Filipino immigrants to America, and his mother, Donna Raye Bautista, is of Greek descent. His parents separated (and eventually divorced). His paternal grandfather served in the military, worked as a taxicab driver, barber, and other jobs to feed the family. Batista says he is not ashamed to admit he lived in poverty.
He has publicly admitted to having a hard life where, as before he was age nine, three murders occurred on his shared front lawn. As young as age 13, he was stealing automobiles. By age 17, he was considered estranged from his parents and on his own, despite admitting later that "I am proud of my parents. They are good, honest, hard-working folks. They taught me the values of working hard." Batista became a regular bouncer for clubs until he was arrested after a fight that left two patrons injured, one of which was rendered unconscious. After a trial, he was sentenced to one year of probation. He was also a lifeguard before he pursued a career in bodybuilding.
Read more...

Featured Article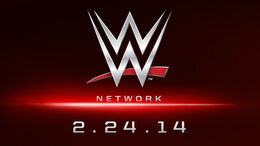 WWE Network, the first-ever 24/7 streaming network, will launch live in the U.S. on Monday, February 24, featuring all 12 WWE live pay-per-view events – including WrestleMania – valued at more than $600 per year for $9.99 per month with a 6-month commitment. WWE Network will also include groundbreaking original programming, reality shows, documentaries, classic matches and more than 1,500 hours of video on demand at launch.
Fans can subscribe to WWE Network beginning at 9:00 a.m. ET on Monday, February 24, at WWE.com, and for a limited time will be offered a free one week trial. WWE Network, the first 24/7 network delivered directly to fans through over-the-top digital distribution, will be available on desktops and laptops via WWE.com. WWE Network will also be available through the WWE App on: Amazon's Kindle Fire devices; Android devices such as Samsung Galaxy; iOS devices such as Apple iPad and iPhone; Roku streaming devices; Sony PlayStation 3 and Sony PlayStation 4; and Xbox 360. Availability on additional devices, including Xbox One and select Smart TVs, will follow this summer.
Read more..
News
Loading RSS data...
Refresh
Featured PPV
WrestleMania XXX will be the 30th annual WrestleMania professional wrestling pay-per-view (PPV) event produced by WWE, to be held on April 6, 2014 at the Mercedes-Benz Superdome in New Orleans, Louisiana. The event will be the first WrestleMania to be held in the state of Louisiana.
WrestleMania will feature professional wrestling matches that involve different wrestlers from pre-existing feuds, plots, and storylines that will be played out on WWE's primary television programs. Wrestlers will portray villains or heroes as they follow a series of events that build tension and culminate in a wrestling match or series of matches.
Read more..

Female Wrestler of the Month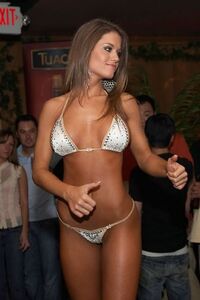 Brooke Nichole Adams (December 4, 1984) is an American model, dancer, and professional wrestler, currently working for Total Nonstop Action Wrestling under the ring name Miss Tessmacher. She previously worked for World Wrestling Entertainment appearing with Kelly Kelly and Layla in the dance group Extreme Exposé on the company's former ECW brand. She is a former two-time TNA Women's Knockout Champion and a one-time TNA Knockouts Tag Team Champion with Tara, known collectively as TnT.
Read more...
Pro Wrestling Twitter Feed