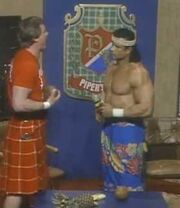 Piper's Pit
was an interview segment featuring
Roddy Piper
which was a mainstay of WWF/WWE television from
1984
to
1987
, and then returned briefly in 1989. Also, Piper hosted similar segments while wrestling for other promotions.
Initially, the set consisted simply of a set of five thin walls meeting in a corner with a Scottish plaque on the center wall. The two walls on either side had posters of Piper in action and a chair or two. The colors of the walls were then patterned in Royal Stewartplaid. However, when that was destroyed (see Memorable Moments below) in the fall of 1986, it was rebuilt as an almost permanent set taking on a more Scottish flavor complete with a painted portrait of Piper on the back wall; Guests of this Pit came through an arched entrance way in the center of the set rather than from the side of the set previously.
Piper's Pit returned during Piper's short return to the WWE in 2003. The segment also made a return in 2005 at WrestleMania 21 interviewing Stone Cold Steve Austin, the night after Rowdy Roddy Piper was inducted into the WWE Hall of Fame. Between then and Piper's 2015 death, the Piper's Pit segment has continued to make occasional appearances.
Since 2003, WWE programming has contained other Piper's Pit-style interview segments hosted by other WWE superstars. Examples of wrestlers who have hosted their own segments include Chris Jericho, Edge, Christian, Carlito, Santino Marella, Montel Vontavious Porter and René Duprée.
Memorable moments
1984-1989
Heel run
Face run
Since 2003
Video
See also
External links