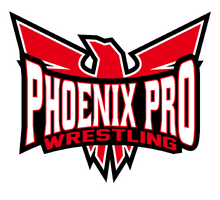 Phoenix Pro is a independent wrestling company based in Eastern PA, owned and operated by Rick Lyttle (aka Glenn Phoenix). The company features a mix of several styles ranging from Lucha libre, to strongstyle. The company is known for not taking itself overly seriously and often using many science fiction oriented story lines. Examples being an ancient alien god named Lathem and his attempts to destroy Earth, several instances of time travel, cloning, super powers, a zombie outbreak and a giant Robot powered by its own sexiness. Despite its over the top nature the company has developed a strong cult following in Western PA and has a reputation of taking relative unknowns and molding them into successful talents.
Ad blocker interference detected!
Wikia is a free-to-use site that makes money from advertising. We have a modified experience for viewers using ad blockers

Wikia is not accessible if you've made further modifications. Remove the custom ad blocker rule(s) and the page will load as expected.