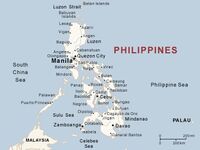 The Philippines, officially known as the Republic of the Philippines, is a sovereign island country in Southeast Asia situated in the western Pacific Ocean. It consists of 7,107 islands that are categorized broadly under three main geographical divisions: Luzon, Visayas, and Mindanao. The capital city of the Philippines is Manila and the most populous city is Quezon City; both are part of Metro Manila.
Cities
Wrestlers
Also see
External Links
Ad blocker interference detected!
Wikia is a free-to-use site that makes money from advertising. We have a modified experience for viewers using ad blockers

Wikia is not accessible if you've made further modifications. Remove the custom ad blocker rule(s) and the page will load as expected.