Ad blocker interference detected!
Wikia is a free-to-use site that makes money from advertising. We have a modified experience for viewers using ad blockers

Wikia is not accessible if you've made further modifications. Remove the custom ad blocker rule(s) and the page will load as expected.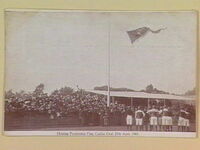 A pennant is a commemorative flag typically used to show support for a particular athletic team. Pennants have been historically used in all types of athletic levels: high school, collegiate, professional etc. Traditionally, pennants were made of felt and fashioned in the official colors of a particular team. Often graphics, usually the mascot symbol, as well as the team name were displayed on pennants. The images displayed on pennants were either stitched on with contrasting colored felt or had screen-printing. Today, vintage pennants with rare images or honoring special victories have become prized collectibles for sporting enthusiasts. While pennants are typically associated with athletic teams, pennants have also been made to honor institutions and vacation spots, often acting as souvenirs
In wrestling
Pennants are an important form of merchandise for various promotions and events.
Gallery
External links