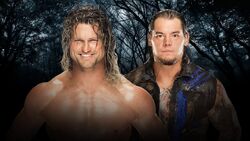 At WWE Payback, Dolph Ziggler and Baron Corbin will square off in a match that might just reveal that, in WWE, arrogance must be earned.
The Lone Wolf made an immediate name for himself when he shocked the WWE Universe by winning the Andre the Giant Memorial Battle Royal at WrestleMania 32. Outlasting the likes of Big Show, Kane and even Shaquille O'Neal, the former NXT powerhouse instantly emerged as a player to watch in WWE.
Looking for an encore performance, Corbin battled two-time World Heavyweight Champion Ziggler the next night on Raw. The former NFL offensive lineman teed off on The Showoff, ignoring the referee's orders and accidentally getting himself counted out in the process. Furious, Corbin then viciously laid Ziggler out on the floor with the dreaded End of Days.
Under different circumstances, a rivalry like this might ultimately result in the passing of a torch. Not here, though. Put a torch in either man's hands and expect flames to rise.
Corbin is a brash, if vainglorious, upstart determined to make a name for himself. Ziggler, on the other hand, is a competitor who took the same tact as Corbin early on in his career but has since won the hardware to justify the swagger. Who better than The Showoff to teach Corbin a lesson in humility?
Since their first conflict on Raw, the two have exchanged both barbs and brutality. Ziggler has been unrelenting and unafraid in his scraps with Corbin, consistently coming to the aid of defenseless opponents when The Lone Wolf assaults them post-match. However, Ziggler's acts of valor have mostly ended with him lying face down after each confrontation.
Following their several altercations, Ziggler and Corbin were scheduled to face off with one another again on the April 21 edition of SmackDown from the U.K. Corbin, however, blindsided Ziggler from behind before the match could even begin. The Lone Wolf laid out Ziggler, and when asked why he incited the attack, Corbin simply replied, "because I can."
This collision course has led the two Superstars to another faceoff, this time at WWE Payback. Can Baron Corbin continue to solidify his position as WWE's newest menace, taking Ziggler down on a primetime stage? Or will The Showoff prove that wisdom, experience and a touch of refined confidence ultimately win out?
See also