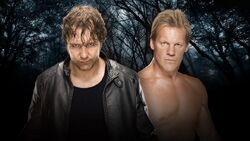 Dean Ambrose and Chris Jericho's rivalry may have started with just subtle signs of tension, but it has quickly intensified into a bitter conflict, as they prepare to settle their differences at WWE Payback on Sunday, May 1, live on the award-winning WWE Network.
Did animosity between The Lunatic Fringe and WWE's first Undisputed Champion truly begin – as Jericho himself suggested – on the April 7 SmackDown? The Ayotollah of Rock 'n' Rolla made his entrance for Thursday night's main event as a victorious Ambrose was still making his way back to the locker room after his contest. This encounter was questionable at the very least, and could easily be construed as a sign of disrespect, especially coming from an arrogant veteran such as Jericho.
There is, however, a chance these two Superstars' disdain for one another began all the way back at WWE Night of Champions 2015, when they fought on the same side, along with Roman Reigns, in a losing effort against The Wyatt Family. After the bout, the nine-time Intercontinental Champion shoved his way past the former Shield members, walking up the ramp in a huff. Regardless of whether this or their recent SmackDown exchange sparked the hostility between Ambrose and Jericho, either way, these two in-ring greats clearly just don't like each other.
The always unpredictable Ambrose raised tensions further on the April 11 Raw when he interrupted Jericho's famed "Highlight Reel" segment to deliver a letter from Shane McMahon, which stated that the Fozzy rocker's talk show had been cancelled in favor of the unstable Superstar's debuting "Ambrose Asylum." This – along with a subsequent Dirty Deeds to the former WWE World Heavyweight Champion – left the foes at a point of no return.
On the April 18 Raw in London, Shane McMahon made sure the WWE Universe would see these adversaries clash in a dream matchup, by officially pitting the two against one another at WWE Payback. Can Ambrose bring the cocky Jericho's out-of-control ego down a few notches, or will The Man of 1,004 holds prove once again that he truly is The Best in the World At What He Does?
See also