Ad blocker interference detected!
Wikia is a free-to-use site that makes money from advertising. We have a modified experience for viewers using ad blockers

Wikia is not accessible if you've made further modifications. Remove the custom ad blocker rule(s) and the page will load as expected.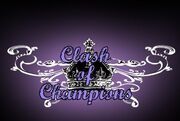 PWA Clash of Champions is Booker T's Pro Wrestling Alliance July Event. The Event is Same Name of Former WCW Pay Per View.
PWA Clash of Champion dates and venues
| Event | Date | City | Venue |
| --- | --- | --- | --- |
| PWA Clash of Champions 2007 | July 21, 2007 | Pasadena, Texas | Pasadena Convention Center |
| PWA Clash of Champions 2008 | July 18, 2008 | Pasadena, Texas | Pasadena Convention Center |
| PWA Clash of Champions 2009 | August 13, 2009 | Pasadena, Texas | Pasadena Convention Center |
| PWA Clash of Champions 2010 | July 17, 2010 | Houston, Texas | Clear Lake Sports & Recreation Complex |
| PWA Clash of Champions 2011 | July 16, 2011 | Houston, Texas | Clear Lake Sports & Recreation Complex |
| PWA Clash of Champions 2012 | July 14, 2012 | Houston, Texas | Clear Lake Sports & Recreation Complex |