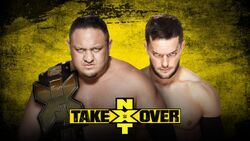 History will be made on June 8 at NXT TakeOver: The End... when NXT Champion Samoa Joe defends the title against former champion Finn Bálor in NXT's first Steel Cage Match.
NXT General Manager William Regal made the announcement during a contract signing at the WWE Performance Center that was broadcast on Facebook Live just three days after a wild brawl erupted between champion and challenger at a Live Event in Portland, Oregon. There, the entire NXT roster had to clear out of the locker room in order to separate the fierce rivals. According to Regal, the decision to turn the bout into a Steel Cage Match was done to ensure the safety of NXT fans and guarantee a definitive conclusion to the rivalry.
The highly anticipated bout marks the third consecutive championship match between Joe and Bálor at an NXT TakeOver, and the fourth duel between the two Superstars over NXT's top prize. To say they are familiar, if evenly matched, foes would do a disservice to what has become one of NXT's all-time most intense rivalries.
After going 0-for-2 in the narrowly decided TakeOver matches, the Samoan submission machine broke Bálor's historic 292-day reign as NXT Champion on April 21 at a Live Event in Lowell, Massachusetts, far from the bright lights of WWE Network. Since losing the title, Bálor has been singularly focused on reasserting himself as champion.
One common denominator of this championship series is that each brawl has been more explosive than the one before it. The addition of an unforgiving steel cage only promises that trend will continue on June 8. Who will benefit more from the steely environment: Joe or Bálor?
See also