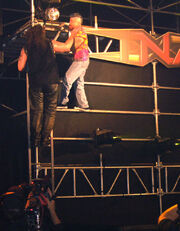 Stub

This article is a

stub

, an article too short to provide more than rudimentary information about a subject. You can

help

Pro Wrestling Wiki by

expanding it

.
A Monster's Ball match is a Professional wrestling, match staged by Total Nonstop Action Wrestling. The name is derived from the 2001 film Monster's Ball.
The key premise of the match was that all contenders are sequestered alone in a locked room without light, food or water for twenty-four hours before the match. This stipulation is intended to induce extreme feelings of aggression in the competitors. Once released, the wrestlers fight one another in a no disqualification match, with the usage of weapons encouraged. Victory can be achieved by pinfall or submission, with the match ending as soon as one wrestler is pinned or submits (there is no elimination format). However, the locked away stipulation was simply forgotten about and not mentioned since the 5th one. It is now simply a Street Fight, as the match has to end inside the Ring.
Due to the hardcore nature of the match, the Monster's Ball typically features numerous high spots. There has been a total of four official matches, plus two occurring on TNA non-televised "house shows" and one match dubbed "Monster's Ball" by an non-affiliated company, although it featured TNA wrestler Abyss. There is apparently no set number of wrestlers although it is generally four. The smallest official match was three people and there was a one-on-one match at a TNA house show.
Match history
#
Event, Date and Location
Match
Details
1
Victory Road (2004)
November 7, 2004,
Orlando, Florida
Monty Brown defeated Raven and Abyss
Brown pinned Raven after a Pounce through a table.
2
Bound for Glory (2005)
October 23, 2005,
Orlando, Florida
Rhino defeated Abyss, Sabu and Jeff Hardy
Rhino pinned Hardy after a Rhino Driver off the middle rope.
3
TNA House Show
June 10, 2006,
Wayne, New Jersey
Samoa Joe defeated Abyss and Rhino
(unofficial) Joe forced Rhino to submit with the Coquina Clutch.
4
TNA House Show
September 29, 2006,
Richmond, Virginia
Rhino defeated Abyss
5
Bound for Glory (2006)
October 22, 2006,
Plymouth Township, Michigan
Samoa Joe defeated Brother Runt, Raven and Abyss
Joe pinned Raven after a Muscle Buster.
6
Bound for Glory (2007)
October 14, 2007,
Duluth, Georgia
Abyss defeated Raven, Black Reign and Rhino
Abyss pinned Raven after a Black Hole Slam onto a pile of broken glass and thumbtacks.
7
Bound for Glory IV
October 12, 2008,
Hoffman Estates, Illinois
Beer Money, Inc. (Robert Roode and James Storm) (with Jacqueline) (c) defeated Abyss and Matt Morgan, Team 3D (Brother Ray and Brother Devon) and The Latin American Xchange (Homicide and Hernandez) to retain the TNA World Tag Team Championship
Beer Money, Inc. won when James Storm pinned Hernandez after Team 3D put him through a table with thumb tacks on top.

Steve "Mongo" McMichael was the special referee.

The TNA World Tag Team Championship were on the line (the match marked the first time that the TNA World Tag Team Championships were defended in a Monsters ball)

8
Sacrifice (2009)
May 24, 2009,
Orlando, Florida
Taylor Wilde defeated Daffney (with Abyss and Dr. Stevie)
Wilde pinned Daffney after slamming her with a fireman's carry takeover on top of a garbage can.

First ever Knockouts Monster's Ball match.

9
Slammiversary (2009)
June 21, 2009,
Auburn Hills, Michigan
Abyss and Taylor Wilde defeated Raven and Daffney (with Dr. Stevie)
Abyss pinned Raven after Black Hole Slamming him onto a pile of thumbtacks.

First ever mixed tag team Monster's Ball match.

10
Bound for Glory (2009)
October 18, 2009,
Irvine, California
Abyss defeated Mick Foley
Abyss pinned Foley after chokeslamming him onto a barbed wire board.

Dr. Stevie was the special guest referee for the match.

11
House show
November 9, 2009,
Nashville, Tennessee
Abyss defeated Rhino
12
TNA Impact!
May 3, 2010,
Orlando, Florida
A.J. Styles defeated Abyss
13
Slammiversary VIII
June 13, 2010,
Orlando, Florida
Abyss defeated Desmond Wolfe
14
House show
July 2, 2010,
Brooklyn, New York
Jeff Hardy defeated Abyss
15
House show
July 23, 2010,
Bloomington, Illinois
Jeff Hardy defeated Abyss
16
House show
July 24, 2010,
LaPorte, Indiana
Jeff Hardy defeated Abyss
17
House show
August 13, 2010,
Baton Rouge, Louisiana
Jeff Hardy defeated Abyss
18
House show
August 14, 2010,
Thibodaux, Louisiana
Jeff Hardy defeated Abyss
Mick Foley was the Special Guest Referee
19
House show
September 16, 2010,
York, Pennsylvania
Jeff Hardy defeated Abyss
20
House show
September 17, 2010,
Wilkes-Barre, Pennsylvania
Jeff Hardy defeated Abyss
21
House show
September 23, 2010,
New York City, New York
Tommy Dreamer defeated Abyss
Mick Foley was the Special Guest Referee
22
House show
September 25, 2010,
Rahway, New Jersey
Abyss defeated Tommy Dreamer
23
Bound for Glory
October 10, 2010,
Daytona Beach, Florida
Rob Van Dam defeated Abyss
24
House show
October 15, 2010,
Racine, Wisconsin
Tommy Dreamer defeated Abyss
25
House show
October 16, 2010,
Dubuque, Iowa
Tommy Dreamer defeated Abyss
26
House show
October 17, 2010,
Hoffman Estates, Illinois
Tommy Dreamer defeated Abyss
Mick Foley was the Special Guest Referee
27
House show
October 21, 2010,
Grand Rapids, Michigan
Abyss defeated Sabu
28
House show
October 22, 2010,
Cadillac, Michigan
Abyss defeated Sabu
29
House show
October 23, 2010,
Saginaw, Michigan
Abyss defeated Sabu
30
House show
October 24, 2010,
Port Huron, Michigan
Abyss defeated Sabu
31
House show
April 9, 2011,
Pittsburgh, Pennsylvania
Abyss defeated Tommy Dreamer
32
Genesis (2012)
January 8, 2012,
Orlando, Florida
Abyss defeated Bully Ray
As per stipulation of the match, had Abyss lost, he would have had to rejoin Immortal
33
One Night Only: Hardcore Justice 2
March 19, 2013,
aired July 5, 2013,
Orlando, Florida
Joseph Park defeated Judas Mesias (with James Mitchell)
34
Impact Wrestling
December 3, 2013,
aired December 26, 2013,
Orlando, Florida
Joseph Park defeated Bad Influence (Christopher Daniels and Kazarian)
35
One Night Only: #OldSchool
December 30, 2013,
aired February 7, 2014,
Poughkeepsie, New York
Jeff Hardy defeated Abyss
36
Impact Wrestling
January 30, 2014,
aired February 6, 2014,
Glasgow, Scotland
Abyss defeated Eric Young
37
Impact Wrestling
April 10, 2014,
aired April 17, 2014,
Orlando, Florida
Eric Young (c) defeated Abyss
the TNA World Heavyweight Championship was on the line (the match marked first time that the TNA World Heavyweight title defended in a Monsters ball)
38
Impact Wrestling
June 19, 2014,
aired June 26, 2014,
Bethlehem, Pennsylvania
Magnus and Bram defeated Abyss and Willow
39
Impact Wrestling
June 27, 2014,
aired August 7, 2014,
New York, New York
Bram defeated Abyss
40
One Night Only: Turning Point
September 5, 2014,
aired January 9, 2015,
Charlottesville, Virginia
Bram defeated Abyss
41
One Night Only: Rivals
September 6, 2014,
aired February 6, 2015,
Roanoke Rapids, North Carolina
Eric Young defeated Abyss
42
Impact Wrestling
January 30, 2015,
New York, New York
Jeff Hardy defeated Abyss
43
One Night Only: Hardcore Justice 4
February 13, 2015,
Orlando, Florida
Matt Hardy defeated Abyss
44
One Night Only: Live
January 8, 2016,
Bethlehem, Pennsylvania
Abyss defeated Grado
45
Impact Wrestling
February 16th, 2016,
Manchester, England
The Wolves (Davey Richards and Eddie Edwards) (c) defeated The Decay (Crazzy Steve and Abyss)
The TNA World Tag Team Championships were on the line (the match marked the first time that the TNA World Tag Team Championships were defended in a Monsters ball on television and on POP TV)
46
Impact Wrestling
March 1st, 2016,
London, England
Abyss defeated Jimmy Havoc