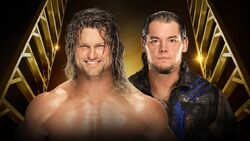 Given that Dolph Ziggler and Baron Corbin's rivalry began with a face-plant on the floor and progressed to include a pair of low-blows and a vow of ultimate destruction on The Lone Wolf's part, where could the two Superstars possibly go from here? Well, at Money in the Bank, we're about to find out.
That's right: As revealed on WWE's official Snapchat account, the two-time World Heavyweight Champion and reigning Andre the Giant Memorial Battle Royal winner will battle yet again on June 19, marking the third straight confrontation between The Showoff and his rival on a major pay-per-view stage.
A stage, it must be said, that Corbin seems to think is his to command without having to earn the opportunity first. That surprise win in the Andre the Giant Memorial Battle Royal served only to place a chip on Corbin's shoulder, and that entitlement grew by the day when he realized that he was still subject to things like disqualification losses when he broke the rules, and "fluke" defeats against veterans like Ziggler whose accomplishments he has yet to respect.
Ziggler, as one of the standard-bearers of the old guard and whose grueling path to the top was long, winding and well-documented, had no time for upstarts who refused to pay their dues, and decided to beat Corbin into shape. After his attempts to educate his rival the old-fashioned way fell on deaf ears, The Showoff has recently resolved to play the game on The Lone Wolf's terms, fighting dirty and daring Corbin to do something about it. At Money in the Bank, Corbin will have just such a chance. And should Ziggler show him up again, it will be a hard pill to swallow indeed.
See also