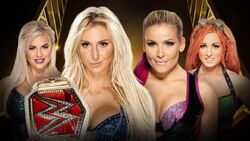 WWE Money in the Bank could prove to be the turning point for the Women's division as Natalya & Becky Lynch look to put an end to Charlotte & Dana Brooke's unruly power trip in a must-see tag team showdown that was first announced on Facebook Live.
WWE Women's Champion Charlotte has held her place atop the division since the title's inception at WrestleMania 32. This is no easy feat, and one that has come with a bit (or a lot) of help. First, the titleholder's legendary father, Ric Flair, provided his fair share of aid to his daughter by showing over and over again why he is called "The Dirtiest Player in the Game." Recently, however, the arrogant Charlotte made a rather shocking and bold move, telling her dad to take a hike. Enter Dana Brooke.
The powerful newcomer wasted no time making her mark in the Women's division, first aligning herself with Emma and most recently taking the two-time WWE Hall of Famer's place as Charlotte's partner in crime. Together, Charlotte and Dana have proven to be a force to be reckoned with within the division.
In recent months, Natalya has pushed the champion to the limit on numerous occasions, only to have victory taken from her at the last second. The Queen of Harts has remained determined to prove that Charlotte's impressive title reign is the result of her underhanded tactics, the most recent of which involved a scheming Dana dressing up as The Nature Boy at Extreme Rules to distract the pink-and-black–clad Superstar and cost her the win.
The odds have since evened, though, as Dana's heated rivalry with Becky Lynch has made for an opportune alliance between The Irish Lass Kicker and Natalya. Both duos have since taken turns trying to gain the upper hand, resulting in a number of volatile run-ins.
Although Charlotte won't have to defend the coveted WWE Women's Championship at WWE Money in the Bank, a loss this Sunday could prove to be a very costly setback. Can Natalya & Becky put a halt to their adversaries' powerful alliance? Or, will WWE Money in the Bank prove to be the place where Charlotte & Dana's power trip hits the jackpot?
See also