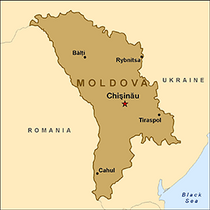 Moldova, officially the Republic of Moldova, is a landlocked country in Eastern Europe located between Romania to its west and Ukraine to its north, east and south. Its capital city is Chișinău.
Moldova declared itself an independent state with the same boundaries as the Moldavian Soviet Socialist Republic in 1991 as part of the dissolution of the Soviet Union. A new constitution was adopted on July 29, 1994. A strip of Moldova's internationally recognized territory on the east bank of the river Dniester has been under the de facto control of the breakaway government of Transnistria since 1990.
Cities
Arenas
Events
Promotions
Wrestlers
Also see
External Links
Ad blocker interference detected!
Wikia is a free-to-use site that makes money from advertising. We have a modified experience for viewers using ad blockers

Wikia is not accessible if you've made further modifications. Remove the custom ad blocker rule(s) and the page will load as expected.