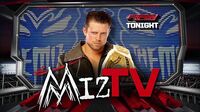 Miz TV is an interview segment that debuted on the September 17, 2012 edition of Monday Night Raw. It debuted with Booker T as the first guest, followed by Ryback coming out to immediately destroy the set.
List of Guests
Mizdow TV
"Miz TV" Debuts with Booker T
CM Punk took a lie detector test on "Miz TV"
Cena gave Ambrose an Attitude Adjustment on "MizTV"
"Mizdow" TV at Hell in a Cell 2014
Ad blocker interference detected!
Wikia is a free-to-use site that makes money from advertising. We have a modified experience for viewers using ad blockers

Wikia is not accessible if you've made further modifications. Remove the custom ad blocker rule(s) and the page will load as expected.