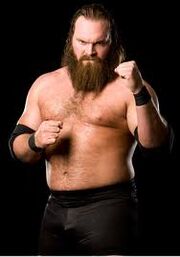 The following is a listing of events featuring Mike Knox.
2006
June 20, 2006 Knox debuted on ECW as a heel interfering in Kelly Kelly's striptease segment.
2008
Sept 11 2008 Knox defeated Balls Mahoney.
On Sept 18 2008 Knox he lost in a rematch to Mahoney.
2009
Nov 10 2009 Knox defeated Dlo Brown.
On April 15, Knox was drafted to the Smackdown brand as part of the 2009 Supplemental Draft. He made his debut for the brand on the May 8, 2009 episode of SmackDown, defeating R-Truth in a singles match.
2010
On the August 14, 2010 episode of SmackDown, Knox debuted new elements to his character that included knowledge of biology and the human anatomy, using this knowledge to methodically inflict pain upon his opponents.
His final PPV appearance was at Wrestlemania XXVI, where Knox competed in a 26-man Battle Royal (a dark match) and finished fourth.
On April 23, 2010, WWE announced that Knox had been released from his contract.
External links