Matthew "Matt" Anoa'i (April 7, 1970) is a Samoan professional wrestler currently working for All Japan Pro Wrestling under the name RO-Z. He is mostly remembered for his stint with the World Wrestling Entertainment as Rosey, both as a member of 3-Minute Warning with his cousin Jamal (Eddie Fatu), and later as the Super Hero In Training (S.H.I.T.). Anoa'i also played in the main event of the World Series of Poker and was a featured contestant on Fat March.
Career history
Throughout his career, Anoa'i has wrestled as part of several tag teams. Early in his career, he has formed many tag teams with his family members such as Samoan Gangsta Party with Sammy the Silk, Samoan Gangstas with L.A. Smooth and Ekmo as The Island Boyz/3-Minute Warning. He also teamed with The Hurricane.
Independent circuit
In his early career, Anoa'i started out under the name Mack Daddy Kane, teaming with Sammy the Silk as the Samoan Gangsta Party.They had a brief stint in ECW in the summer of 1996, feuding with The Gangstas, as well as the Eliminators and the Bruise Brothers.
Before signing with the WWF, Anoa'i worked the independent circuit as Kimo, teaming with his cousin Ekmo as The Island Boyz.
World Wrestling Entertainment
3-Minute Warning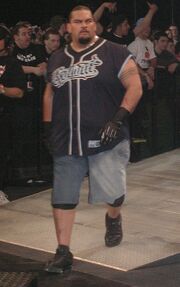 Using the ring name of Rosey, Anoa'i made his WWE debut on the July 22, 2002, episode of Raw with Ekmo (renamed Jamal) as 3-Minute Warning a pair of heel savages. They were "hired" as Eric Bischoff's assailants, attacking random wrestlers each week, at the orders of Bischoff. Their most notable event came when they attacked two lesbians.
Teaming with The Hurricane
Later in 2003, The Hurricane "discovered" Rosey's potential as a superhero, and christened him "Rosey, the Super Hero in Training" (or the S.H.I.T.).In one memorable promo, he helped an old lady across the street, but when he revealed himself as "the S.H.I.T.", she started hitting him with her purse for using foul language. On the July 19, 2004, episode of Raw, Rosey appeared with a new costume, seemingly graduated to a full superhero, officially turning him face. On May 1, 2005, at Backlash Hurricane and Rosey defeated La Résistance in the finals of a Tag Team Turmoil match to win the World Tag Team Championship. They were joined for a short while by Stacy Keibler, who they referred to as Super Stacy. Stacy, however, was then drafted to the SmackDown! brand. On September 5, 2005, Rosey and The Hurricane were defeated by Lance Cade and Trevor Murdoch, during their debut match on Raw. During the title match, Murdoch delivered an elevated DDT on The Hurricane to the outside. The DDT caused Hurricane to suffer a kayfabe "stinger" and allowed Cade and Murdoch to beat the injured Hurricane later in the match to win the World Tag Team Titles from him and Rosey.
The loss of the titles eventually brought the team to an end, as they began a losing streak caused by Hurricane's injuries. During the October 17, 2005 episode of Raw, Hurricane was assaulted by Kurt Angle at the request of Vince McMahon. After the beating footage was shown, Hurricane ripped off his mask and struck Rosey (who had come to the ring to his aid). The next week Hurricane no-showed a World Tag Team Title match, leaving Rosey to face the champions Cade and Murdoch alone.During the match, The Hurricane (out of costume) appeared at the top of the entrance ramp, now going by the name Gregory Helms as he watched Rosey get double teamed and defeated. After the match, Helms announced that he was fed up of being funny for the crowd, and that he had been carrying Rosey as a tag team partner. On the November 7, 2005, edition of Raw, Helms defeated Rosey in their first encounter since teaming together.
Shortly after this turmoil, Jamal was rehired by WWE and he and Rosey were scheduled to reunite 3-Minute Warning. The duo wrestled as a tag team during a dark match on the January 9, 2006, edition of Raw.
Post–WWE
Anoa'i made his debut with All Japan Pro Wrestling on June 25, 2006, under the name RO'Z, as a member of Roughly Obsess and Destroy (RO&D). He teamed with Taiyō Kea to defeat the team of Arashi and Satoshi Kojima. Throughout August 2006, Anoa'i appeared in HWA Adrenaline. In his initial appearance, Anoa'i used the "RO'Z" name and wore his WWE superhero outfit but would later return under his old moniker "Kimo". RO'Z left RO&D and joined enemy faction Voodoo Murders after a heated argument with Kea. RO'Z later began a feud with AJPW Triple Crown Champion and former mixed martial arts fighter Minoru Suzuki, who referred to RO'Z as a "fat pig". He challenged Suzuki for the Triple Crown on October 29, but was unsuccessful.
Anoa'i participated in the AJPW Champion's Carnival 2007 as a member of Block B, but he only finished with 2 points in the series, with his only victory being against Toshiaki Kawada on March 27 (Day 2 of the Tournament). Along with Samula Anoa'i, Anoa'i inducted The Wild Samoans into the WWE Hall of Fame the night before Wrestlemania 23.
He took part in the ABC reality series, Fat March. The show called for some overweight people to walk over 570 miles, passing through nine states, with the goal of shedding unwanted pounds and getting fit along the way. There were six male contestants and six female contestants. The press release stated: "He was released from pro wrestling in the U.S. last year when officials felt he was too heavy and it wasn't safe for him to compete. He must lose weight to return to his career." The contestants competed for a prize pool of US$1.2 million, but due to knee injuries, he quit during the fifth episode.
Return to WWE
After losing a tremendous amount of weight, he wrestled a dark match for WWE on August 20, 2007, before an episode of Raw. After being billed under his real name, he was defeated by Johnny Jeter. The match went well, so management decided to bring him back for the August 21, 2007, SmackDown! taping, where he was defeated again by Jeter.
Personal life
Anoa'i is married to Mandy (née Vandeberg) from Mason, Ohio. They have a daughter, Madison (born in December 2003) and one son, Jordan (born in 1998).
He is the son of former professional wrestler Sika Anoa'i, who competed as one half of the Wild Samoans. He is a cousin of former wrestler and current movie star, Dwayne "The Rock" Johnson. Other cousins also include the late Eddie Fatu (currently known as Umaga), Rikishi, Tonga Kid, Deuce, and the late Yokozuna. His brother, Joe Anoa'i, was the starting defensive tackle for the Georgia Tech Yellow Jackets football team, and is a currently member of WWE under the ring name Roman Reigns.
Anoa'i was the ninth person in his family to become a World Tag Team Champion while with WWE, although his family members won the titles under the WWF banner.
Anoa'i played high school football in Escambia High School in Pensacola, Florida. While there, he played alongside the NFL's future all-time rushing leader Emmitt Smith. Anoa'i also has a Samoan signature designed tattoo on his upper biceps.
Wrestling facts
Finishing and signature moves
Revolving Legdrop
Super Hero Slam
Championships and accomplishments
See also
External links
Ad blocker interference detected!
Wikia is a free-to-use site that makes money from advertising. We have a modified experience for viewers using ad blockers

Wikia is not accessible if you've made further modifications. Remove the custom ad blocker rule(s) and the page will load as expected.