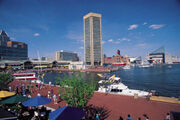 Maryland is a U.S. state located in the Mid Atlantic region of the United States, bordering Virginia, West Virginia, and the District of Columbia to its south and west; Pennsylvania to its north; and Delaware to its east. Maryland was the seventh state to ratify the United States Constitution, and three nicknames for it (the Old Line State, the Free State, and the Chesapeake Bay State) are occasionally used. The state's most populated city is Baltimore. Its capital is Annapolis. It was named after Queen Henrietta Maria.
Cities
Arenas
Events
Wrestlers
External Links
Ad blocker interference detected!
Wikia is a free-to-use site that makes money from advertising. We have a modified experience for viewers using ad blockers

Wikia is not accessible if you've made further modifications. Remove the custom ad blocker rule(s) and the page will load as expected.